Welcome to the website of York Branch 
The York Branch website aims to keep members informed on branch activities; provide information on meeting schedules, branch advocacy and other areas of interest. Be sure to check back periodically for updates.
We have two membership meetings each year click to see meeting schedule. Click https://www.federalretirees.ca/en/node/1600/edit
 
Branch Reports
Oct. 2023 Update
Branch president's report
The fall members' Meeting was held on Oct. 17 at the Richvale Community Centre. Attendance was down a bit, but more members came in by Zoom than in the past. We want all members to be able to participate in their association.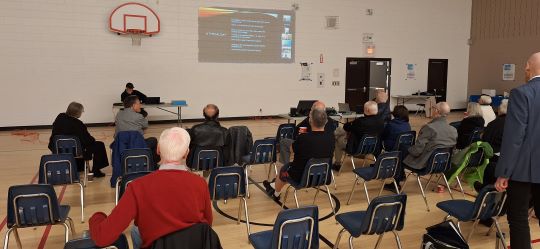 We had some discussion of the PSHCP transition, reviewing reports by Association President Roy Goodall. Federal Retirees can only pressure the government, which controls the administration contract. Reportedly, things are improving, but about a third of FMM attendees reported problems. One member gave a detailed description of ongoing difficulties in contacting Canada Life. This gives cause to worry about the change in dental plan administrator set for July 1. Upcoming modernization of other benefit plan admin software (OAS, CPP – see Globe & Mail Oct. 20) also makes one nervous, when some members are still suffering through the Phoenix adventure.
Celebrating Federal Retirees' 60th with a historical view gave a lighter note to the meeting – one member had even provided a cake (two actually – oopsie on the acronym!) to celebrate the event.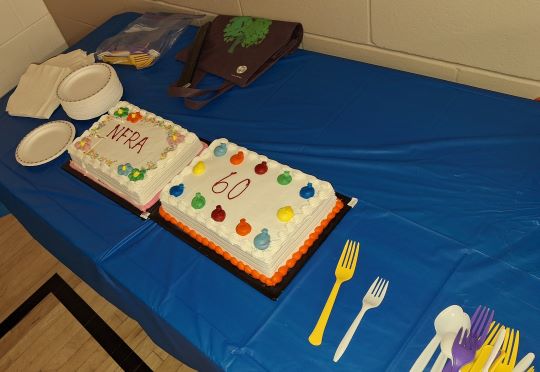 The presentation on experience with electric cars was very entertaining and well received. Tim Goos is an electric vehicle user in Alberta, and so provided personal experience as well as a general overview of the consumer issue. Tom Nichols also gave a short travelogue on his recent cruise, emphasizing the natural beauty of Iceland but also the urban features of bicycle-loving Copenhagen.
Our next general meeting will be the branch AGM in the spring. We continue to try to address sound problems at these meetings – the Richvale gym provides too many echoes! We might try a different venue next year.
The next Federal election is not far away, and we retirees must make sure our presence and influence is felt. More benefit programs are coming – we will be affected. How will the promised Canada dental care program affect our own dental plan? The health care system is still a problem, and how will we pay for this and the programs to come? If we do not advocate for ourselves, who will? Let your MP know what you think!
Fred Conway, York Branch
Sept. 2023 Update
September Update – Branch President's Report
A long summer that somehow passed by so fast, and we are back to the fall round of activities, which for York Branch is essentially the Fall Members' Meeting.
However, there is considerable upset about the transition of PSHCP from Sun Life to Canada Life. Not everyone has had a problem, but many of us have, and our Ottawa office has been so flooded with calls that extra staff have been brought in to handle them. NAFR has no control with the situation, which is between the Government and Canada Life. Our association has been pressing them as much as possible: Roy Goodall (NAFR President) is to meet the NEW Treasury Board President in October. We are told that Canada Life is working to resolve the problems. It appears that the company underestimated the staffing requirements, and is stepping up to address that problem. We are encouraged to keep up the pressure on them: those who have, have had some success.
The Branch FMM will be held at Richvale Community Centre, on October 17. We are back in the multipurpose room with all its sound problems: we had no success in finding another more appropriate room which is both large enough and less echo-prone, but we'll try harder to alleviate the problem this time.
The FMM is intended to be a social meeting rather than a business session. It will be a hybrid meeting – our standard these days – with video access for those who cannot attend in person. We'll have a bit of business, and then a guest speaker. Tim Goos is an electric vehicle enthusiast who will talk about his years of experience with them in Alberta – a more challenging place for them than Southern Ontario! If time permits (we promise to end by 12:30 pm), we'll have a small travelogue. Tom Nichols and his wife enjoyed an extensive cruise over the summer. This year is NAFR's 60th year, and we will mark the occasion with light refreshments and an anniversary cake.
Please RSVP to the e-mail invitation, or send an e-mail directly to the Branch e-mail address at federalretirees.york@gmail.com.  This is YOUR Association!
Fred Conway, York Branch
Web Content
We are constantly reviewing and updating our webpage hoping to make it friendlier and allow our readers to quickly search for information about the branch: its activities and the newest published items. Please check out the Latest Updates section to find the most current submission.
Frank Froude
Web Content Editor
March 2022