Sage, our quarterly magazine, is brimming with engaging and informative articles about issues that matter to members. From advocacy campaigns and insightful interviews to health-care updates and retirement planning, Sage has it all.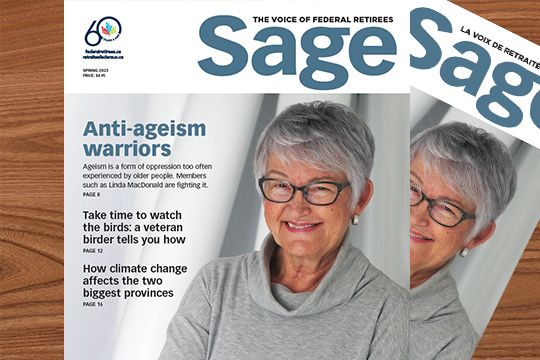 The latest issue of Sage is an excellent one! Click here to download your copy.
For Sage spring 2023, we explore the fight against ageism and what Federal Retirees is doing about it. Readers will also find birdwatching tips from a seasoned expert and a discussion of the effects of climate change in the provinces of Ontario and Quebec.
Back issues
Federal Retirees has been publishing Sage quarterly since 2014 and all these great issues are available to download. Click the cover image of any issue below to view it.
Wondering what Sage is all about? Check out our Reading Nook feed where we've collected some of the best and most popular articles from the magazine.
 
Winter 2022

Fall 2022

Summer 2022

Spring 2022

Winter 2021

Fall 2021

Summer 2021

Spring 2021

Winter 2020

Fall 2020

 
 

Summer 2020

Spring 2020

 
 

Winter 2019

Fall 2019

 
 

Summer 2019

Spring 2019

 
 

Winter 2018

Fall 2018

 
 
 

Summer 2018

Spring 2018

 
 

Winter 2017

Fall 2017

 
 

Summer 2017

Spring 2017

Winter 2016/17

Fall 2016

Summer 2016

Spring 2016

Winter 2016

Fall 2015

Summer 2015

Spring 2015

Winter 2015 

Fall 2014 

Summer 2014 

Spring 2014