One voice, members, excellence
Association delegates voted unanimously to adopt a five-year strategic plan at the 2019 annual meeting of members (AMM), which took place in Gatineau, Que., June 18-20.
The strategic plan has three broad goals:
Advocate in the best interest of our members and seek to be recognized as a respected national voice supporting secure, healthy and dignified retirement for federal retirees and all Canadians.
Promote membership retention and growth.
Pursue organizational excellence at all levels of the organization.

Download the Strategic Plan 2019-2024: One Voice, Members, Excellence (PDF).
Approved by the AMM in June 2019.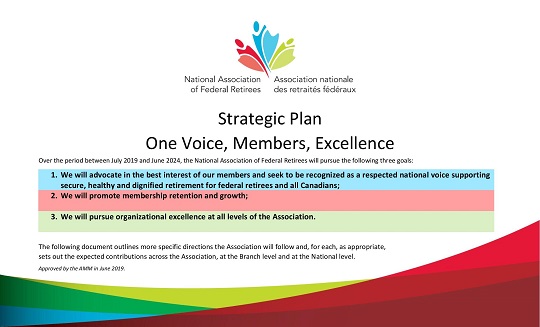 Vision
All Canadians enjoy dignity and security in retirement.
 
Mission
To significantly improve the quality and security of retirement for our members and all Canadians through advocacy and the provision of services.
 
Values  
Leadership
Integrity
Accountability
Service
Respect