Earlier today, National Association of Federal Retirees' president, Jean-Guy Soulière, and director of advocacy, Sayward Montague, discussed a National Seniors Strategy with members of the House of Commons Standing Committee on Human Resources, Skills and Social Development and the Status of Persons with Disabilities. 
The two appeared as witnesses to assist the Committee in their study,Advancing Inclusion and Quality of Life for Canadian Seniors. The study is focused on access to affordable, accessible housing; income security for vulnerable seniors; and community programs to promote social inclusion and recognize the social determinants of health – all related, and all key elements of a National Seniors Strategy.
"I can't think of an issue that is more important to retirees in Canada and their loved ones than the creation of a National Seniors Strategy, a strategy that would ensure that programs and policies are coordinated," noted Soulière. "And it's a strategy that will ensure Canadian seniors continue to be a force, well into retirement." 

In addition to a National Seniors Strategy that includes coordinated homecare, national palliative and end-of life care, and infrastructure investments to ensure seniors' residential needs are met, Soulière noted the importance of retirement income security and protecting earned retirement pensions. Retirement security earned by Canadians with accrued defined benefit pensions are likely to be eroded if Bill C-27 is allowed to proceed – something that works contrary to the goals of a National Seniors Strategy. 
Soulière also called on government to appoint a minister for seniors, much as we have a Minister for Youth. Canadians understand the need for a Minister Responsible for Youth: youth, after all, are Canada's future. But seniors, the largest growing demographic in Canada with more than ever before to contribute, should have a dedicated voice advocating for their unique needs within government, ensuring we always view public policy decisions through a seniors' lens. 
 
"Let me conclude with some wise words from Dr. Samir Sinha, chief of geriatrics at Mount Sinai Hospital in Toronto, and author of the Ontario government's seniors strategy," said Soulière. "'Aging is not a disease. It is a triumph.' And I would add: "Get ready for a new definition of retirement. Let's get it right."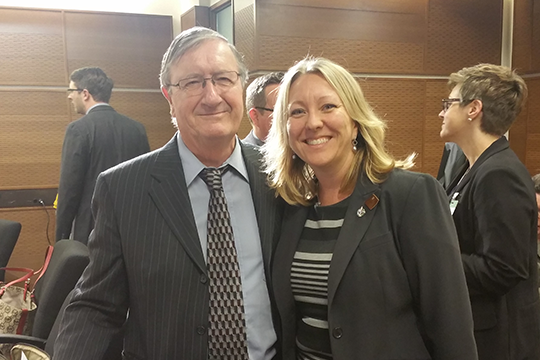 Federal Retirees' President Jean-Guy Soulière (left) and Member of Parliament Mona Fortier (right).