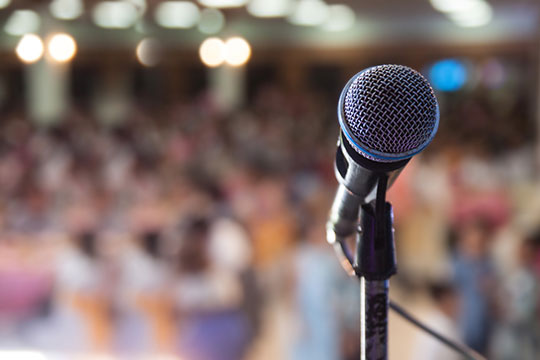 Between October 2 and 16, 2017, the House of Commons Finance Committee will hold a series of "open mic" meetings for its work on the 2018 federal pre-budget consultations. 

It's the perfect opportunity to step up to the microphone, let the federal government know what budget priorities should be over the coming years, and help Federal Retirees be recognized as still a force.

Planning to attend? The list of dates and locations is below. Speaking is possible on a first-come, first-served basis, with remarks limited to one minute or less per person. 

Use these key points when you step up to the microphone. 
 
Secure retirements, strong health care, and a National Seniors Strategy are the best way to help seniors and their families.
On retirement security, I urge this government to scrap Bill C-27. This bill would introduce a new type of pension plan, target benefit pensions, while taking away retirement security and killing off good defined benefit plans that people have worked for, and that bring benefits back to local and national economies. 
For budget 2018, I believe the federal government should lead a National Seniors Strategy that builds on the home care and seniors' housing investments that have been made so far. The Strategy needs to include a national palliative and end-of-life care strategy; better pharmacare for seniors; and it must continue to tackle infrastructure investments with Age-Friendly Communities and Universal Design standards in mind, to ensure seniors' residential needs are met. 
The government should appoint a minister responsible for seniors, to make sure public policy decisions are always viewed with a seniors' lens.
These actions will lead to better productivity and a stronger economy, not just for seniors, but for their families and Canadian communities. 


Before you step up to the mic, read the key messages we've provided above. Practice saying each point and all of them together, and if you need to, re-write them in words that feel natural to you. Don't forget to let everyone know who you are, where you're from, and that you're a proud member of National Association of Federal Retirees!

Dates for pre-budget public consultations include (more details will be provided here soon):
 
3 October: Saskatoon, Saskatchewan
4 October: Vancouver, British Columbia
5 October: Yellowknife, Northwest Territories
6 October: Calgary, Alberta
16 October: St. John's, Newfoundland
17 October: Halifax, Nova Scotia
18 October: Montreal, Quebec
19 October: Windsor, Ontario
20 October: Toronto, Ontario