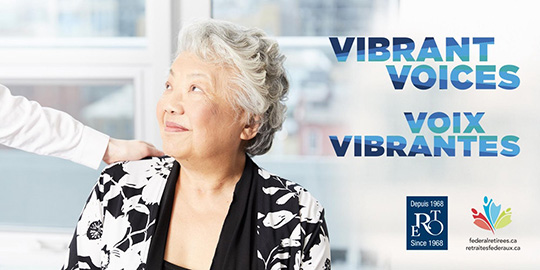 Representing 150,000 voters in the upcoming Ontario election, our Vibrant Voices collaborative campaign with the Retired Teachers of Ontario has reported on issues and campaign promises related to seniors in the Ontario Election to be held on June 7, 2018.
After a long, turbulent and surprising campaign, the election is soon coming to a close. With Election Day just days away, which party will form the next government remains unclear.
But, regardless of the result, Federal Retirees are committed to making sure that addressing the concerns of our members and Ontario seniors is top of mind for each MPP elected on June 7th. We've hosted a lively town hall discussion between the parties, we've asked each party leader to answer our questionnaire on these issues, and we've sent hundreds of emails to candidates throughout the province. Together, we've run an incredible campaign. Thank you for your support – we couldn't have done it without you.
But there's one more thing we need you to do – vote.
This could be a close election, and every vote is going to count. Keep in mind the issues that matter most to you and to Ontario seniors, the promises from each party, and make sure you make an informed choice. If you're not sure where to vote, use this tool from Elections Ontario to find your local polling information and consider your plan to vote on June 7th.
Again, thank you for supporting our Vibrant Voices campaign. We look forward to working with the next Ontario government to implement the promises they have made to you and to all seniors in this election.