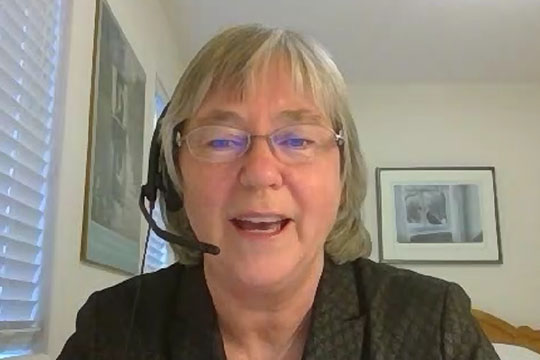 Federal Retirees' virtual town hall events with Seniors Minister Deb Schulte and her parliamentary secretary brought members' questions forward for answers in real time.
 
Please note that important updates have been made to this article since it was originally published. It was last updated on June 10, 2020.
In late May and early June 2020, the National Association of Federal Retirees CEO Simon Coakeley hosted a series of virtual town halls for more than 700 Federal Retirees members, with the federal seniors minister, the Honourable Deb Schulte and the parliamentary secretary to the minister, Mr. Stéphane Lauzon. Coakeley was joined by Federal Retirees president Jean-Guy Soulière and board members Linda MacDonald and Hélène Nadeau.
Didn't get a chance to tune in? Watch the recording of the English-language webinar with Minister Deb Schulte. Or, you can watch the French-language webinar with Mr. Lauzon.
Schulte and Lauzon each opened by acknowledging the impact COVID-19 has had on seniors' bottom lines, due to extra costs for deliveries and food, additional dispensing fees and limited transportation options, all while life savings have been impacted.
Soulière focused the minister's attention on the importance of a national seniors strategy to address the challenges that have crystallized under COVID-19 – a strategy that Federal Retirees has been calling on governments to develop and implement for years.
"More needs to be done to make policies more comprehensive, so we can better address the complex needs of seniors," said Schulte. "I have tasked the National Seniors Council to look at a national seniors strategy, and what unique elements the federal government should be focusing on in a national strategy."
Federal Retirees questioned Schulte and Lauzon on long-term care, noting the need for a national review of long-term care, with national care standards tied to provincial and territorial funding, and greater accountability for providers.
Both Schulte and Lauzon acknowledged the seriousness of Canada's long-term care situation. "The reports we have seen are shocking and unacceptable," said Schulte. "We're working with provinces and territories to address their needs and keeping seniors safe during the pandemic… However, we have to do better and we have to do more, in partnership with the provinces and territories who are the regulators of these facilities."
Coakeley then fielded questions from Federal Retirees members, which touched on retirement income security, health and long-term care, informal caregiving, rural internet access, and issues affecting veterans and Canadian snowbirds.
Members were keen to know more about when to expect one-time payments for recipients of Old Age Security (OAS) and the Guaranteed Income Supplement (GIS), promised in early May. Schulte noted that while there is no date yet, people should "stand by" because it will be "very soon," although Federal Retirees has since learned the one-time OAS and GIS payments will begin July 6.
Schulte and Lauzon also clarified that individuals who have postponed or deferred their OAS will not be eligible for the one-time payment, because they are likely to be in higher income brackets and in less need than others requiring OAS – and those who need more are likely GIS recipients, and will receive more.
Registered Retirement Income Funds (RRIFs) and pension stability were areas of interest for members, too. When asked if the federal government plans further adjustments to RRIF withdrawal rates and the age at which RRIFs are required, Schulte noted the federal government is watchful and that these options may be on the table as Canada moves through the pandemic and into recovery.
Member questions also focused on women veterans, many of whom are not clients of Veterans Affairs Canada. The minister was clear that the issues facing military women have not received the attention they deserve. "We know military experiences resulting in illness or injury are often different for women. We also know that they wait longer for decisions on their applications," said Schulte. "Veterans Affairs has created an office of Women and LGBTQ2 veterans to examine how we can better ensure that women receive the support they need when they leave the CAF. You have our commitment that we're going to be working on that to make improvements."
Coakeley also asked Schulte to comment on the security and sustainability of Federal Retirees members' pensions, and the pressure the federal government may come under to reduce public sector compensation and pensions.
"It would be really odd for a government that's so dedicated to improving pensions, to improving the CPP, to improving pension security, to change that philosophy – there have been no discussions about changes to pensions," said Schulte.
Schulte and Lauzon ended by sharing what they most hope to change during their tenure.
"Obviously, making sure we address seniors' financial security, working with my colleagues in Health and Justice, and through the New Horizons for Seniors program to address ageism and elder abuse," said the minister. "I have a nice, long mandate letter that has me working with my colleagues to make sure that seniors issues and needs are addressed in a better way than we've done before."
On Lauzon's side, he is most looking forward to making an impact and developing a national seniors strategy – news that is welcome to Federal Retirees, a long-time advocate for an integrated strategy that meets the growing and changing needs of Canada's aging population.
Through the pandemic and into recovery – however it may look – Federal Retirees will continue to advocate for our members and older Canadians.
Watch out for more opportunities to connect with government and opposition politicians in the House of Commons to ensure our members and older Canadians' needs are heard and addressed.
Last updated: June 10, 2020