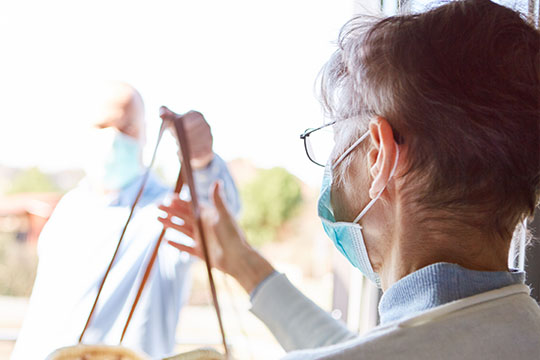 From increased grocery costs and delivery fees among other unforeseen expenses, many Canadian seniors have been financially impacted by the current public health crisis.
 
On June 4, 2020, Prime Minister Justin Trudeau delivered a much-anticipated update for seniors on the one-time, tax-free payments of $300 for seniors eligible for the Old Age Security (OAS) pension, and the further $200 for seniors eligible for the Guaranteed Income Supplement (GIS).
Since the one-time payments were announced nearly a month ago, many of our members have asked when they can expect to receive the funds.
We know that some of our members and older Canadians are struggling. They have seen increased grocery costs, new fees to access deliveries, and some have lost a source of income.
We brought those concerns to the seniors minister and her team and focused on the importance of having full, prompt and clear information for our members and Canadian seniors on the timeline for OAS and GIS one-time payments in these uncertain times. Federal Retirees president Jean-Guy Soulière and CEO Simon Coakeley brought these concerns to the House of Commons Human Resources Committee on May 25, 2020.
During our live webinar with Seniors Minister Deb Schulte on May 28, 2020, Federal Retirees members asked when the funds would be available. The minister noted that, while she could not give a date, Canadians should "stand by" for an announcement. We asked the same question on June 3, 2020, when Coakeley hosted a webinar for Federal Retirees members with the parliamentary secretary to the minister of seniors, Stéphane Lauzon. 
Today, our hard work paid off: the federal government has announced that the one-time payments will be delivered the week of July 6, 2020.
According to the government's announcement, seniors do not need to apply for this one-time special payment. The payment will be issued automatically during the week of July 6, and seniors who reside in Canada can expect to receive the payment by direct deposit or cheque that week. For seniors who reside outside Canada, the one-time payment will also be issued in July for those on direct deposit, but delays can be expected for cheques, given international postal disruptions.
Working together, the Federal Retirees team – from members and volunteers, to our board members and staff – has been hard at work advocating, even while physically distancing. And we've proven again that together, we can have an impact. You can be part of that impact – join our advocacy team today.
Read more about the original announcement of the one-time payment for seniors.