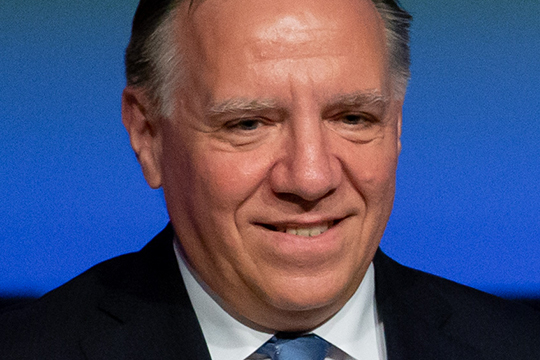 François Legault's Coalition Avenir Québec secured a second majority win in the 2022 provincial election.
 
On Oct. 3, Quebec's exiting governing party, the Coalition Avenir Québec (CAQ), won an astonishing 90 seats out of 125 to form an imposing majority government not seen since 1989 when Bourassa's Liberals won 92 seats. Premier François Legault is entering a clear, strong second mandate.
Votes, seats and electoral reform
But the breakdown of votes between opposition parties is just as, if not more, notable. Québec Solidaire (QS), the Parti Québécois (PQ), the Québec Liberal Party (QLP) and the Parti Conservateur du Québec (PCQ) all came in neck and neck with only 103,400 votes separating the first and the last. It is the worst electoral result in history for the PQ and the Liberals.
The outcome also means that the composition of the national assembly will not reflect these votes. The big story after the election was the electoral system itself and how "broken" the first-past-the-post system is, given the distorted results in seats.
Political party

Votes

Seats

Total Seats

Coalition avenir
Québec 

40.98%

72%

90

Québec Solidaire

15.43%

8.8%

11

Parti Québécois 

14.60%

2.4%

3

Quebec Liberal Party
 

14.37%

16.8%

21

Conservative Party of Quebec

12.91%

0%

0
What stings for many is that the CAQ was elected in 2018 on a promise to reform the voting system. And while in opposition, the party signed an agreement with QS, PQ and the Québec Greens to reform the voting system to a mixed proportional system during their first mandate.
The CAQ came close to electoral reform with Bill 39, An Act to establish a new electoral system. It went as far as a second reading before dying on the order paper, with no action since. When asked about it during the election campaign, Legault responded: "The population is not interested in this, besides a few intellectuals, Quebecers do not care about this." Unsurprisingly, the leaders of QS, PQ and PCQ all mentioned their will to reform the voting system in their concession speeches.
 
Addressing diversity
More women than ever will represent Quebecers in the national assembly, with 59 women elected compared to 52 in 2018. Out of those elected, 41 women will be on the government's benches.
Legault opened his victory speech about how proud he was of this. Just how proud remains to be seen in the composition of the cabinet and which ministries women will lead.
People of colour held only eight percent or 11 of the seats in the previous assembly. In this election, 16 people of colour were elected, including Kateri Champagne Jourdain (CAQ), the first Indigenous woman to hold a seat. While it is an improvement, it might not be enough to celebrate, considering up to 34 percent of the population in some Quebec communities are people of colour and Indigenous Peoples.
 
What's in it for seniors?
The CAQ's electoral platform said little about seniors. However, some commitments were included, namely increasing financial help for seniors, increasing investments in home care and continuing the construction of Maison des aînés residences.
Restoring the health and social services system: $5.2 billion over five years
Making significant changes in health-care facilities: $1 billion
Improving labour management and delivery: $3.4 billion
Modernizing the health system: $800 million
Improving care and services to the population: $3.6 billion over five years
Continuing to strengthen care and services for seniors and caregivers: $2.6 billion, including:

Reinforcement of home care support services: $785 million
Improvement of care and services for caregivers: $250 million
Opening of the first seniors' homes: $1.5 billion
Harmonization of public and private CHSLDs: $128 million

Improving the accessibility and quality of health and social services: $550 million
Improving services to vulnerable people: $500 million
These investments were not explicitly reiterated during the campaign and were not included in the CAQ's platform.
Nevertheless, Federal Retirees expects Quebec's government to live up to its budget commitments and to better prioritize the needs of older adults. With Legault's cabinet announcement expected soon, Federal Retirees will need your help to let this government know that older adults must be a priority.
 
Reach 338
The 2022 Quebec election may be over, but our work is just beginning. Join the Reach 338 network to keep the momentum going.

Reach 338 is a nationwide network of advocates working to advance our mission — to significantly improve the quality and security of retirement for our members and all Canadians.

And in Quebec, we have work to do to ensure our next CAQ government follows through on its election promises to invest in care and services for seniors, introduce a strategy for aging in Quebec and modernize the health system.

Join Reach 338 today. Help improve aging in Quebec.