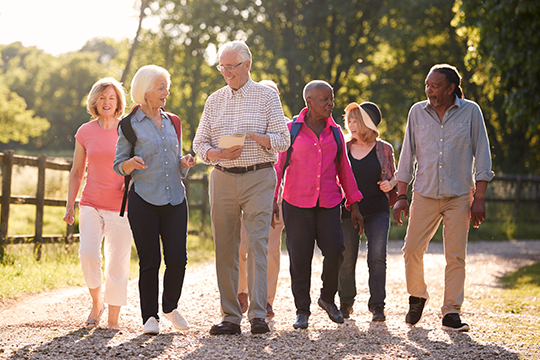 As the Quebec election campaign enters its final stretch with the Coalition avenir Québec (CAQ) still dominant and the opposition fragmented, it is clear that the issue of seniors has not been as prominent in the media as the pandemic might have led us to expect.
However, the platforms include a number of measures (in French) specific to older adults (home care, tax credits for those aged 70 and older, dental care, etc.). The four opposition parties also promise an independent commission of enquiry into deaths in long-term care facilities, or CHSLDs. 
But during the three major media events of the last few weeks, few questions were directly related to seniors. It was then up to each candidate to mention them. Here is a brief overview of what we heard from the five parties when it comes to issues affecting members, seniors and retirees.
Five leaders, one election
On Sept. 4, the leaders of Quebec's five main political parties were interviewed by journalists Anne-Marie Dussault, Céline Galipeau and Patrice Roy as part of a special program from Radio-Canada.
François Legault
Premier and CAQ leader François Legault has addressed the issue of seniors on several occasions. When asked about tax cuts and promised cheques while needs are felt in hospitals and CHSLDs (where multiple-occupancy rooms are once again allowed), he pointed to the difficulties of "seniors with small pensions" in the face of inflation, to explain targeted assistance of up to $2,000.
He was critical of his rivals' promises on home care (not achievable in the short term because of the lack of nurses, he said), pointing to the increase in care during his mandate and explaining he's "moving ahead gradually."
When asked about the waiting lists in CHSLDs and the high cost of building seniors' homes, he replied: "They are the ones who built the Quebec of today. There is nothing too good for our seniors." He will use this sentence again during the Sept. 15 debate.
Dominique Anglade

The Quebec Liberal Party leader was not asked any targeted questions about seniors but spoke about them in the context of expenditures promised to help the middle class (which includes a $2,000 seniors' allowance).
"The only thing that is not increasing today is the income of our seniors," she said. She repeated this sentence often in the debates on Sept. 15 and Sept. 22.
Paul St-Pierre Plamondon
As he summarized his platform, the Parti Québécois leader described his party as "the only party with a plan to ensure the dignity of our seniors."
Asked about his $3 billion home care program, which was described as unrealistic by Legault, he said he is basing his program on best practices. He criticized the cost of seniors' homes, which they will not be able to build for everyone.
"The model of relying on concrete is financially unsustainable," he said. He is betting on social economy endeavours to provide care outside hospitals and institutions, as is the case in Europe. "We are increasing the number of people able to take care of our seniors."
Gabriel Nadeau-Dubois (Québec solidaire) and Éric Duhaime (Conservative Party of Quebec) were not asked about seniors and did not mention them. However, Duhaime did mention the need for a public enquiry into deaths in CHSLDs.
 
The first debate
The first debate of Quebec election campaign took place on Sept. 15. Conservative Party of Quebec Leader Éric Duhaime, Quebec Liberal Party Leader Dominique Anglade, Québec solidaire co-spokesperson Gabriel Nadeau-Dubois, Parti Québécois Leader Paul St-Pierre Plamondon and Coalition Avenir Québec Leader François Legault took part.
Commentators agree that Legault was the loser of this debate (in French), while Nadeau-Dubois and St-Pierre Plamondon stood out (in French). Nevertheless, the CAQ came out unscathed in a poll (in French) released the following week, while the PQ recovered, but remained in last place.
The debate was marked by moments of cacophony and heated debate around the third Québec-Lévis link, environmental taxes, the labour shortage and the protection of the French language.
Due to the themes decided by TVA, the host television station, seniors' issues were discussed in depth only once, for less than five minutes, on the subject of seniors' homes. Several of Legault's opponents announced that they would let current construction finish but would pursue other policies.
Nadeau-Dubois said he is focusing on home care, as did St-Pierre Plamondon, who also wants to create a "seniors' advocate" to fight against abuse. Duhaime promised more support for informal caregivers. Ms. Anglade mentioned her $2,000 seniors' allowance, noting that people want to stay in their homes. Legault defended his record on home care, which has increased but emphasized the need for specialized facilities for people who are losing their autonomy.
"While you are starting your parallel project of seniors' homes, in the existing CHSLDs, people are not living well," countered Nadeau-Dubois.
Anglade seemed to make a special effort to mention seniors at other times: on assistance to fight inflation (referring to the $2,000 allowance), priority access to a family doctor and getting experienced workers over 65 back into the workforce.
On this last point, Duhaime and St-Pierre Plamondon also support tax incentives to encourage healthy retirees to return to work (in response to a question on retirement age).
Finally, it's worth noting the exchange between Duhaime and Legault on the ways in which his government has handled the pandemic: "You have not shown solidarity with seniors," replied Legault, about Duhaime's criticisms of health measures. "You have not shown solidarity with Quebecers and children," Duhaime countered. They went on to have the same exchange on Sept. 22.
 
The second debate
The Quebec election campaign's second and final debate took place on Sept. 22 and was attended by Coalition Avenir Québec Leader François Legault, Quebec Liberal Leader Dominique Anglade, Parti Québécois Leader Paul St-Pierre Plamondon, Québec Solidaire Leader Gabriel Nadeau-Dubois and Conservative Party of Quebec Leader Éric Duhaime.
In terms of content, this last Radio-Canada event was very similar to the previous one, but in a calmer style, where everyone managed to develop their ideas better. According to some commentators, St-Pierre Plamondon stood out, and Anglade's performance was an improvement.         
Of note was the sparring between Legault and Nadeau-Dubois (particularly about the "orange" taxes of Québec solidaire), a certain lack of clarity from Legault on the third Quebec-Lévis link and an attack from Anglade calling out the "setback for women" due to the lack of child-care spaces during the CAQ's mandate.
Once again, seniors were briefly mentioned in the context of a question about the cost of living and labour shortages. The only focused discussion took place for a few minutes, on the topic of health, with a question about the need for home care (an "extremely important topic too", said the presenter) and the cost of seniors' residential care.
Many of the supporting arguments from the Sept. 15 debate resurfaced. Legault refused to differentiate between care and facilities ("we need both") and Anglade highlighted her tax-free allowance, etc.           
Nadeau-Dubois issued a striking statement in her call for a national shift toward home care: "I do not accept that the generation that built Quebec, at this time, is afraid to grow old [due to the state of CHSLDs]".
St-Pierre Plamondon added: "Seniors are an asset for our society, we have to start saying it and acting accordingly, and therefore listen to them".