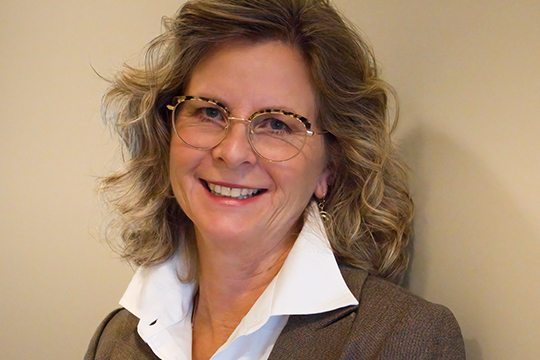 Federal Retirees is pleased to welcome a new advocacy program officer — Renate Sutherland, who will be supporting branches and members in B.C.
 
Federal Retirees is pleased to welcome Renate Sutherland as the new advocacy program officer (APO) for British Columbia.
Sutherland, with the Nanaimo & Area Branch, takes over from Leslie Gaudette, who is stepping down from her role as APO to focus on her role as president of the Council of Senior Citizens' Organizations of B.C.
Sutherland is a native of central Vancouver Island, growing up in Nanaimo. In her early years, she enjoyed theatre and hosting news magazine shows on local radio and television. She and her husband of 33 years live in the Oceanside area of Parksville-Qualicum Beach. They have three children and one grandchild. Her husband retired from Environment Canada's Canadian Wildlife Service after 31 years of service. Sutherland joined the Association in 2016.
Renate worked most of her career in the non-profit sector, including with the United Way of Nanaimo and District, the Heart and Stroke Foundation of B.C. & Yukon and the District 69 Society of Organized Services. She held leadership roles throughout her career, including working as executive director of both the United Way and the Society of Organized Services.
Her work has always included advocacy for vulnerable populations. She has collaborated with other organizations to establish the Parksville - Qualicum Haven House for women and their children experiencing intimate partner violence. She chaired both the Oceanside Health and Wellness Network and Oceanside Task Force on Homelessness that created a housing outreach support team and successfully completed the construction of Orca Place, the only supportive housing unit in the area. She worked on the Oceanside End of Life Working Group consisting of Island Health, Oceanside Division of Family Practice, pharmacists and other local non-profits, which established the first hospice beds in the communities of Parksville and Qualicum Beach.
Since retiring, Sutherland has led two homeless counts for the Oceanside Task Force on Homelessness as part of a B.C. housing initiative and has supported several organizations in achieving their goal of building affordable housing on Vancouver Island.
Volunteering is a very important part of Sutherland's commitment to her community. She is currently the vice-chair of the Qualicum-Parksville Kiwanis Housing Society, where she contributed to a successful redevelopment resulting in 37 low-income housing units for seniors and small families and now leads the building committee planning a further 56 units of mixed affordable housing in Qualicum Beach. She also fosters and supports the training of service dogs for veterans and first responders living with PTSD.
Sutherland has called the Oceanside area home for the past 36 years and now enjoys baking, birdwatching and kayaking in retirement.
As an advocacy program officer, Sutherland will work closely with branch and Reach 338 volunteers to make sure Federal Retirees' priorities are heard and understood by government officials across B.C., and across Canada.
The more advocates we have taking part in Reach 338, the greater our impact will be. If you're interested in joining this nationwide network of advocates, sign up to join the Reach 338 network today!
Advocacy Spotlight showcases successful initiatives and projects put forward by our dedicated volunteers and supporters.
The National Association of Federal Retirees has a proud history of advocacy on behalf of our members and all retirees. In collaboration with our volunteers and supporters from coast-to-coast, we continue this tradition of strong, smart advocacy campaigns focused on improvements to the financial security, health and well-being of our members and all Canadians.
Our success is not only measured in policy changes and legislation. It grows with every meaningful discussion with parliamentarians, and with every email and letter written. Together, we are achieving and surpassing our strategic advocacy goals and targets every day.