National Association of Federal Retirees member Michael Davie and president Jean-Guy Soulière are calling on Members of Parliament to support legislation to address a discrepancy that treats Canadian Armed Forces veterans unequally.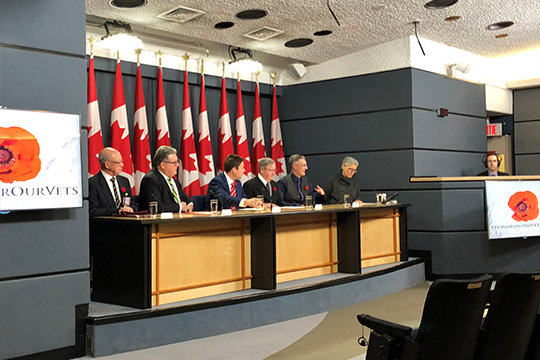 Member of Parliament Alupa Clarke (Beauport—Limoilou) introduced Private Members' Bill C-357 in the House of Commons on June 5, 2017. The bill seeks to fix a gap that emerged following 2012 changes to the federal public service pension plan. In 2012, employees were divided into two groups under the pension plan – those who joined the public service prior to January 2013 and those who joined afterwards. The plan provisions are different for those who joined after 2013 – for example, people who join the public service after 2013 have a higher retirement age.
Veterans who transfer their pensionable military service to the public service pension plan after 2013 are subject to the later retirement date, even though they have served Canada prior to the cut-off date.;
"This is a simple issue, one of fundamental fairness for the women and men who served Canada in our Armed Forces and who continue to serve the country as part of our public service," notes Soulière. "The National Association of Federal Retirees is calling on all parties to come together to support Bill C-357, to resolve this oversight that unfairly impacts veterans and to recognize the value of their service to Canadians."
With Mr. Davie's leadership, the Federal Retirees Ottawa branch introduced the issue at the Association's annual meeting in 2017. It was overwhelmingly supported by delegates as an issue that needs to be fixed.
The National Association of Federal Retirees is the largest national advocacy organization representing active and retired members, as well as their partners and survivors, of the federal public service, Canadian Armed Forces, Royal Canadian Mounted Police (RCMP) and retired federally appointed judges. With 176,000 members, the Association has been advocating for improvements to the financial security, health and well-being of our members and all Canadians for more than 50 years./p>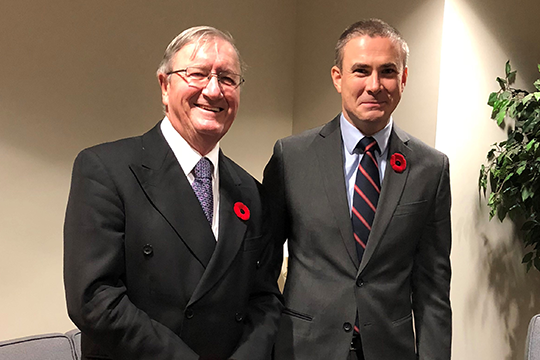 Federal Retirees president Jean-Guy Soulière (left) and Federal Retirees member Michael Davie (right).