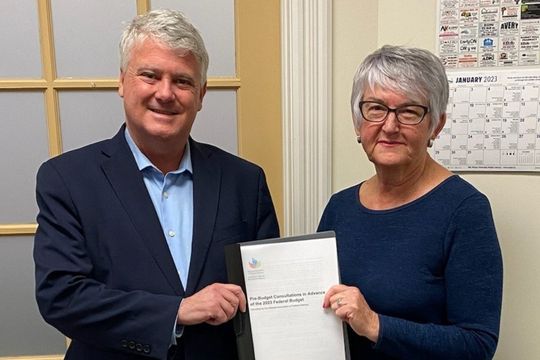 Federal Retirees Algoma branch president, Linda MacDonald, met with MP Terry Sheehan at his constituency office in Sault Ste. Marie on Jan. 25.
Algoma branch has met with this MP previously. This meeting was a touch-base meeting initiated by the MP's office to reconnect with Federal Retirees — a direct result of the ongoing relationship this branch has established with their MP.
During their discussion, MacDonald touched on most of the Association's advocacy priorities.
"I took the opportunity to talk about our 2023 pre-budget consultations submission and to ask the MP about where things stood with long-term care, and in particular the Safe Long Term Care Act," says MacDonald.
During the meeting, Sheehan was provided with a copy of the Federal Retirees' Pre-Budget Consultations in Advance of the 2023 Federal Budget brief, as well as the Long-term care and home care priorities leave behind leaflet. 
As their next follow-up with Sheehan, the Algoma branch plans to invite him to address members at a branch meeting, something Sheehan said he would be happy to do.
Advocacy Spotlight showcases successful initiatives and projects put forward by our dedicated volunteers and supporters.
The National Association of Federal Retirees has a proud history of advocacy on behalf of our members and all retirees. In collaboration with our volunteers and supporters from coast-to-coast, we continue this tradition of strong, smart advocacy campaigns focused on improvements to the financial security, health and well-being of our members and all Canadians.
Our success is not only measured in policy changes and legislation. It grows with every meaningful discussion with parliamentarians, and with every email and letter written. Together, we are achieving and surpassing our strategic advocacy goals and targets every day.