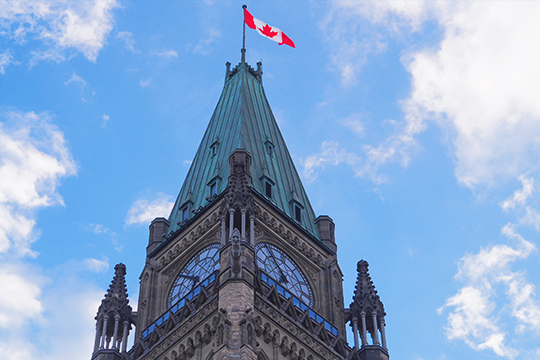 As 2023 dawns, Federal Retirees discusses the political landscape and what it means for the Association's advocacy goals.
 
Last year was supposed to be fruitful for some of Federal Retirees' priorities — pharmacare, long-term care standards and OAS increases, to name a few — and yet, we're still waiting for many of those federal crops to fully ripen.
"2023 is going to be a busy year for the National Association of Federal Retirees," says Association CEO Anthony Pizzino. "And not just because it's the Association's sixtieth year advocating for its members and older adults. This year, we're also turning our attention to the possibility of a federal election in 2024. Now is the time to demand that the politicians who made promises on these priorities deliver on them."
 
Long-term care standards
In the early stages of the pandemic, the federal Liberals made a promise to develop national standards for long-term care. Those standards have been written, consulted on and were to be presented in December 2022, but Canadians are still waiting. Still, at least one expert is optimistic about the outcome of this file.
Susan Braedley, associate professor at Carleton University's School of Social Work, says she's generally pleased about the standards she's seen so far, which are due to be released in the first quarter of 2023.
She likes the fact that 18,500 people were consulted and that a third of the members of the technical working group developing this strategy were front-line workers, a third were residents and caretakers, and a third were researchers such as herself. She also likes the inclusive language being used. She says the standards encourage  "culturally appropriate and culturally safe care" and take into consideration the needs of queer people, immigrants and those who are Indigenous.
"The composition of the committee is a real accomplishment," Braedley says. "And the committee deserves our respect for the effort they've made. I'm quite optimistic that many key elements have been included."
While the standards are expected to be voluntary, Braedley thinks they will provide provincial governments with a way of reviewing their own regulations to see if they're in line with the national standards.
"It's a wonderful opportunity for advocates and opposition parties," she says. "It gives us a way of measuring, and it's also a tool for individual providers. It gives organizations an opportunity to communicate to the public."
The Liberals also promised a Safe Long-Term Care Act in their platform, yet there's been no news on this since.
"A Safe Long-Term Care Act was promised in the 2021 federal election, and we've seen no movement on it," says Sayward Montague, director of advocacy for Federal Retirees. "Canadians, especially those who have been most impacted by the pandemic and lost loved ones in the terrible conditions in long-term care facilities, haven't forgotten about this."
On long-term care, Braedley and Patrik Marier, a Concordia University political science professor who specializes in seniors' issues, are both concerned about the shortage of skilled labour. Marier is a scientific director at the regional health authority in West Montreal, which currently has 130 unfilled positions for social workers. Braedley notes that fewer people are interested in working as personal support workers in long-term care (LTC), and she says most LTC homes need more nurses, too.
 
Pensions
Starting in July 2022, seniors over the age of 75 received a 10 per cent bump in their OAS benefits, something critics, including Federal Retirees, charged created a two-tier system for seniors as those between the ages of 65 and 74 didn't receive the increase.
Marier says indexing will be an important consideration for advocates in 2023 and beyond. The original increase for those over the age of 75 is indexed properly, and yet those between 65 and 74 remain out in the cold.
"This has left out a whole cohort of older adults, some of whom are in dire financial need as we face record levels of inflation," says Pizzino. "Applying an increase to OAS for those who need it most, and in particular to the Guaranteed Income Supplement, which reaches those who are particularly financially vulnerable, is something we need to see."
 
Pharmacare
After the Hoskins Report (A Prescription for Canada: Achieving Pharmacare for All) was released, the pandemic hit and pharmacare took a back seat. But in 2022, the Liberals made a deal with the NDP to remain in power until 2025 if they enact certain programs, including pharmacare. Yet at this point, it continues to languish as a priority for the Liberals.
Prince Edward Island did take the federal government up on its offer of pharmacare so that represents some progress, says Carleton University associate professor Marc-André Gagnon, who specializes in pharmaceutical policy. And the government is also moving forward in setting a national formulary listing the drugs that will be reimbursed.
Gagnon says there's a lot of collaboration required to pull this off, and that's not currently happening.
"As soon as it's in place, the federal government will be offering to pay for all essential medicines," Gagnon says. "And every province can still offer additional protection. It will be difficult for the provinces to say no to that deal, but they're dragging their feet because [health is a provincial jurisdiction]."
Even under a pharmacare system, private employers, in addition to the provinces, can still offer additional protection and insurance for non-pharmaceutical needs, such as physiotherapy and equipment to help seniors age in place.
Still, Gagnon remains optimistic it might come into effect by 2025, and he's not even sure it would die should Pierre Poilievre's Conservatives beat the Liberals.
"It's the right policy," Gagnon says. "When you look at the literature, it's very black and white. The system in Canada right now doesn't make sense. We have so many issues in terms of increasing drug costs. Major reforms are coming one way or the other — the system is not sustainable [as it is]."
 
Veterans issues
Veterans didn't see many wins in 2022. In the spring, the Liberals allocated $140 million to retain temporary staff to process veterans' benefit applications, but there are still four-month waits, though that's an improvement over the 10-month waits that were in place when the money was promised. Mental health services, which received a nod for coverage in 2022, are currently seeing a seven-month wait for processing.
Rachel Blaney, the NDP MP who sits on the Standing Committee on Veterans Affairs and the party's Veterans Affairs critic, says one of the issues is a lack of data to understand the root of the bottlenecks.
"We keep seeing resources thrown towards this, but we're actually not seeing veterans get the support they need," Blaney says.
A 2022 committee report on service delivery made a number of recommendations the government accepted.
"One recommendation [the Liberals] didn't accept was addressing the issue of how many temporary workers they were hiring to fill in the gaps," Blaney says. "And we heard clearly from the parliamentary budget officers over a year ago that permanent positions were required to actually get this backlog addressed."
Blaney says she hears different numbers, too. The auditor general's report said waits were up to 39 weeks when the standard of service is 16 weeks.
 
Looking to 2023
Pharmacare, improved wait times for veterans' benefit applications, national standards for long-term care, properly indexed public pensions and a national seniors strategy will all be on Federal Retirees' watch list for the coming year.