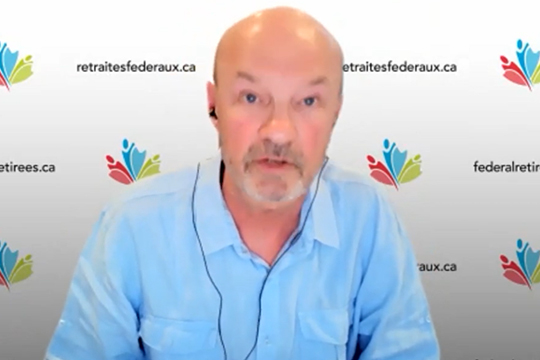 By going above and beyond to host effective town halls, the Federal Retirees Fredericton & District Branch has left a positive impression on its local MP.
 
The COVID-19 pandemic couldn't stop the Fredericton & District Branch from putting on a federal election town hall! They've hosted them in the past, and this election would be no different, even if it meant the format had to change.
During the 2021 federal election, the Fredericton branch, with help from Association staff, hosted a special 90-minute webinar election discussion featuring candidates Jenica Atwin from the Liberal party, Andrea Johnson from the Conservative party, Nicole O'Byrne from the Green party and Shawn Oldenburg from the New Democratic Party.
"We were very pleased with how the session went. I don't think we could have asked for better participation by the candidates. All agreed to attend, and all were very respectful during the session. We had some great answers to the questions," said John Richards, Fredericton branch advocacy volunteer.  
Discussion focused on the need for a national seniors strategy, access to health care and retirement income security.
"One point that really struck me was a comment made by our incumbent, Jenica Atwin. She recalled the all-candidate Q&A session we hosted live prior to the 2019 election.  Apparently, it was her first public Q&A session and she recalled being nervous," remarked Richards. "This comment from Ms. Atwin shows that she knows the Association and what our goals are. From that perspective, it's mission accomplished (or maybe started!); we know that our MP in Fredericton knows about Federal Retirees."
"This recognition and knowledge of Federal Retirees by MPs is so important because it means they know us, they know our priorities and they will be there when we need them to hear us," affirmed Dorma Grant, New Brunswick advocacy program officer.
"Congratulations to the Fredericton branch for achieving the goal of Reach 338 — making sure their MP is aware of, and understands, Federal Retirees priorities, and building that relationship and name recognition," said Léonard LeBlanc, Atlantic district director, and moderator of the Fredericton 2021 election town hall.
If you're interested in doing this kind of volunteer work and making a difference for retirees today, and in the future, join the Reach 338 volunteer network or reach out to our advocacy team for more information at advocacyteam@federalretirees.ca!
About Advocacy Spotlight
Advocacy Spotlight showcases successful initiatives and projects put forward by our dedicated volunteers and supporters.
The National Association of Federal Retirees has a proud history of advocacy on behalf of our members and all retirees. In collaboration with our volunteers and supporters from coast-to-coast, we continue this tradition of strong, smart advocacy campaigns focused on improvements to the financial security, health and well-being of our members and all Canadians.
Our success is not only measured in policy changes and legislation, it grows with every meaningful discussion with parliamentarians, and with every email and letter written. Together, we are achieving and surpassing our strategic advocacy goals and targets every day.