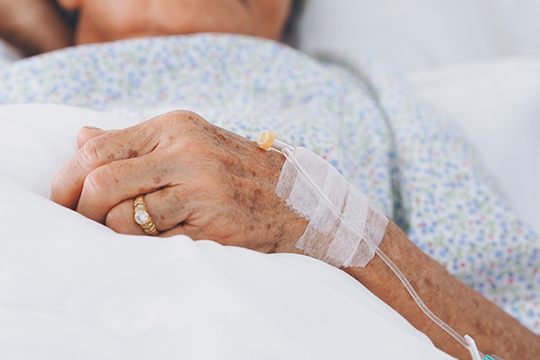 Today's, and tomorrow's, long-term care residents deserve

a system that is safe, effective and high quality.


 
The end of 2021 marks two years since the early days of the COVID-19 global pandemic, and nearly two years since Canadians began to see the worst ravages of the pandemic unfold in the long-term care sector, in tragic scenes that no one could have imagined — and which we should never see again.
Federal Retirees is advocating for national standards in long-term care, tied to funding, to support higher-quality, safer and more consistent care for older people across the country.
Join our call for better long-term care today.
"There's no question that Canada's long-term care system and its performance during the pandemic has been a national shame," says Federal Retirees CEO Anthony Pizzino. "Our members are clear: it's past time for governments to come together and fund long-term care properly, deal with gaps in standards and their enforcement and ensure that workers providing care are able to deliver the best care possible."
According to a report last March by the Canadian Institute for Health Information (CIHI), Canada has the worst record for COVID-19 deaths in long-term-care homes compared with other wealthy countries during the first six months of the pandemic.
CIHI found that the proportion of deaths in nursing homes represented 69 per cent of Canada's overall COVID-19 deaths, a rate significantly higher than the international average of 41 per cent.
Advocates who are working hard to make long-term care better have the same goal: a long-term care system that is safe, effective and high quality.
For some advocates, it's a question as simple as public versus private delivery.
"Unfortunately, we're seeing this break down into a debate on public delivery of long-term care versus private," says Pizzino. "But it isn't as simple as that, and making it a binary debate ignores the fact that all long-term care facilities operate in an environment of lax government regulation and oversight, decades of chronic underfunding and with a lack of investment in long-term care infrastructure. Add to that under-resourced home and community care systems, and you have the perfect storm that hit long-term care during this pandemic."
Governments have a choice in how Canada's long-term care system emerges from the pandemic, and it needs to be made now. The federal Liberal government committed to long-term care in the last two throne speeches and in their election platform.
It's an especially pressing decision for provincial leaders in Ontario and Quebec, with provincial elections on the horizon in 2022. Ontario and Quebec long-term care residents, families and staff experienced the worst and, in many cases, most tragic outcomes during the COVID-19 pandemic — and Federal Retirees members are not about to forget it.
"Governments have a simple choice to make, as 2021 ends and 2022 comes into view," says Pizzino. "Get moving on better funding, better standards, better oversight and better care or continue to stall and face the consequences at the ballot box."
Have your say now. Tell your elected officials you've had enough — Canadians deserve action now on standards for long-term care.