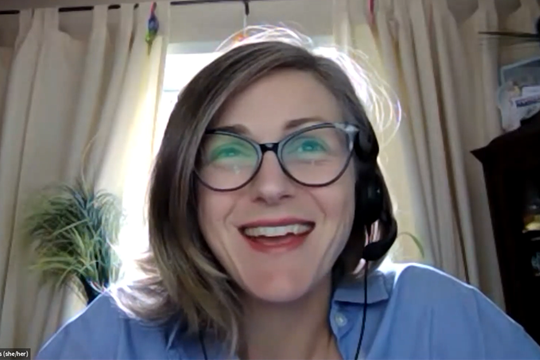 Hear from the Nova Scotia provincial election candidates by viewing the video recording of our webinar, moderated by Federal Retirees' director of advocacy, Sayward Montague.
 
In anticipation of Nova Scotia's provincial election coming up on Aug. 17, Federal Retirees hosted a webinar town hall and debate on issues important members, older adults and retirees. The event was held on Aug. 4 with representatives of three political parties: Minister Kelly Regan from the Liberal Party, MLA Barbara Adams from the Progressive Conservative Party and candidate Tammy Jakeman from the New Democratic Party.
A total of six questions were asked to the candidates, including questions prepared by Federal Retirees branches in the province and from the audience. The questions and discussion focused primarily on health and seniors issues as well as wait times to access care and family doctors.
Regan spoke about the importance of ensuring older Nova Scotians were central to decision making in the province. She highlighted the current Liberal government's commitment of $152.6 million in long-term care to make 500 new beds, renovate 2,000 existing beds and reduce wait times for placement to 60 days. On the importance of home care, Regan also said that they have set aside $1.1 million for the caregiver benefit program.
Adams responded that the current government has had eight years to create a long-term care strategic plan, and it has yet to be released. She said the Progressive Conservative Party has developed a plan to tackle these issues, the "Hope for Health" and "Dignity for Seniors" plans, including investments in long-term care, home care, transportation and affordable housing for seniors, investments to address wait times, a national pharmacare strategy and a dental strategy for seniors in Nova Scotia.
Jakeman added that it is important to meet seniors where they are. The NDP, Jakeman said, will invest to ensure that seniors have access to the long-term care and home care that they need, including national standards, while supporting continuing care assistants. She underlined her party's support for provincial seniors advocates to ensure seniors issues are heard.
Federal Retirees member Ellen Rudderham-Gaudet with the Nova Scotia Central Branch had a question that resonated with the audience. She asked if each party was prepared to set up an independent oversight and accountability entity to assure safe, quality care and outcomes for seniors and others in long-term care. Regan said the Liberals would establish a province-wide advisory council of long-term care residents, home-care clients and families and caregivers to advise on and improve policies and procedures for continuing care in Nova Scotia. Adams stated, for the Progressive Conservatives, the answer is "absolutely, yes." She noted there is no significant oversight at the moment, and that must be addressed. Jakeman said that the NDP plan to establish a seniors advocacy office that is independent, transparent and accountable to hear the issues affecting seniors and retirees.
To learn more about when and where you can vote, be sure to visit Elections Nova Scotia's website.
If you are a Nova Scotian and have questions for your provincial candidates, be sure to take a look at Federal Retirees' toolkit for the Nova Scotia provincial election – and our handy tool to send a letter to the editor of your local media outlet to raise the visibility and importance of issues important to older adults during this provincial election.
Whether you missed the event, or you'd like to relive the highlights, you can view the full recording below.