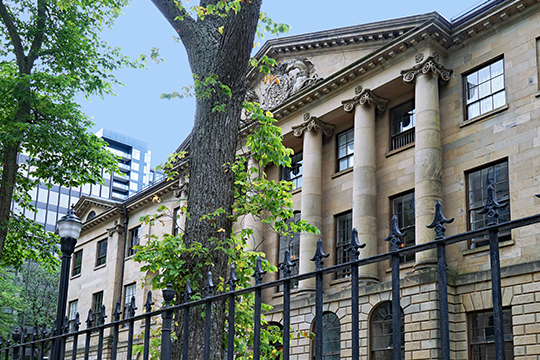 A snap election has been called in Nova Scotia, and we need your help to ensure older adult care is prioritized.
 
On July 17, 2021, a snap election was called in Nova Scotia to take place on Aug. 17, 2021. Federal Retirees is focusing efforts on making the biggest impact — and that means that you, our members, can take action by sharing our message. (All while respecting physical distancing and public health advice, of course!)
 
Key priorities
Seniors are the fastest-growing demographic in the country, and Nova Scotia is 4 per cent above the national average. With over 21 percent of its population age 65 or older, the province has the third-highest proportion of seniors in Canada. It's a demographic that will continue to increase in the coming years and decades.
Gaps in health care, pharmacare and social policies create barriers to independence for older adults and the essential role they play in vibrant, healthy communities and economies.  
Older adults in Nova Scotia deserve an integrated continuum of health and community care that meets their unique needs at different stages of life.  
We've created a short document, "Election 2021: Standing up for older adults in Nova Scotia,"  to quickly and clearly outline Federal Retirees' key priorities in Nova Scotia, along with questions you can ask candidates.
In this election, we ask the next provincial government to commit to: 
Working with the federal and provincial/territorial governments to establish enforced principles and national standards for home and long-term care, with appropriate funding tied to meeting those standards, and ensure quality, safe, timely and comprehensive services.
Keeping older adults healthy and active by supporting age-friendly communities and investing in programs for older adults.  
Collaborating with the federal government to implement a coordinated, comprehensive national seniors strategy, with dedicated funding and concrete, measurable goals, to support healthy aging in Nova Scotia.  
Download your copy of "Election 2021: Standing up for older adults in Nova Scotia."
 
Letter to the editor 
We've also put together a letter to the editor tool, which you can find at the end of this post. Chances are you have a good understanding of local media outlets in your city or town — the papers and websites that are most popular or most likely to publish letters to the editor. These letters are a great way to highlight our concerns with the public and generate discussions about important election issues. 
You may customize the letter to make additions of your own (keeping it respectful, factual and concise). You may also copy the text, paste it into a document on your computer and submit it electronically to your local newspaper by email or through newspaper webpages. 
Even with this snap election, we can have an impact by working together to get the word out on these important issues!