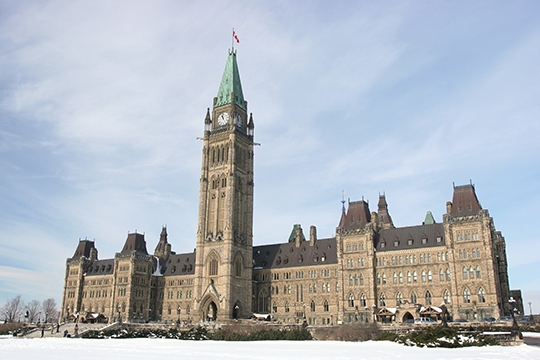 A National Seniors Strategy

Stakeholders representing health care providers and seniors will be watching closely to see whether the Liberal government will use 2018 to begin crafting a national seniors strategy.

The number of Canadians over the age of 65 has grown significantly over the past seven years. If Statistics Canada's predictions prove accurate, seniors will make up one quarter of the country's total population by 2031.

Acutely aware of this rapid demographic shift, health care organizations and seniors' associations have for years called on Ottawa to create a national seniors strategy. Such a strategy, they say, would ensure that Canada's elderly population is getting the care it needs and that government is ready to manage the costs associated with rising pressures on the health care system.

Seniors care has been described by a former Canadian Medical Association president as "the paramount health care issue of our time."

In May 2017, the House of Commons passed a motion introduced by Liberal MP Marc Serré which called on the federal government to kick-start the development of a national seniors strategy and ordered the parliamentary committee on human resources, skills and social development to look at how to advance it.

The parliamentary committee began its study in early June and heard from 65 stakeholders and witnesses over 11 meetings. On Jan. 29, 2018, committee members will reconvene in private to discuss their draft report – so it's likely the groups of MPs will deliver their final report in the near future.

Creating a national seniors strategy was not on the Liberals' list of election promises, but the Trudeau government says it is committed to improving the well-being of Canadian seniors. In a statement released Oct. 1, 2017 – National Seniors Day – Prime Minister Justin Trudeau touted the government's work in increasing the Guaranteed Income Supplement for low-income and single seniors, creating the Canada Caregiver Credit and re-establishing the age of eligibility for Old Age Security benefits at 65 instead of 67.

"Whether in housing, health care, or income security, we will continue to help Canadian seniors get the support they need to participate in their communities and enjoy a secure and dignified retirement," Trudeau said in the statement.

Learn more about our work toward a national seniors strategy.


Retirement security and Bill C-27

MPs are expected to continue debating in Parliament proposed changes to what types of pensions federally-regulated employers can provide.

The Liberals' Bill C-27, introduced in the House of Commons in October 2016, would allow Crown corporations as well as federally-regulated sectors – like air transportation and banking – to offer target-benefit pension plans.

Target-benefit plans land somewhere in the middle between defined-benefit pension plans and defined-contribution pension plans. Defined-benefit plans – typically offered by government and unionized workplaces – guarantee set payments for life and are managed by the employer, who takes on all the risk for those payments. In the case of defined-contribution plans, employers and employees both pitch in but employees take on much more risk; they decide how to invest the funds and the size of their benefits depends on the returns of those investments.

In the case of target-benefit plans, employers manage the plan and both sides share the risk. A percentage of the set payment might be guaranteed – so employees have an idea of how much they can expect – but benefits could decrease if the pension plan performs poorly. 

Many unions, labour groups and other associations have come out hard against Bill C-27, insisting the bill would force workers and retirees to assume too much risk with their pensions and would therefore break the Liberals' vow to improve retirement security.

On the flip side, others say the introduction of target-benefit plans would be positive because it would expand the range of options available to employees in a system where many defined-benefit plans are underfunded. Bill C-27 also notes that employees already under a defined-benefit plan would have to consent to exchanging it for a target-benefit plan.

C-27, which would amend the Pension Benefits Standards Act, hasn't advanced in Parliament since its introduction. MPs are currently debating the bill at second reading; should it pass that stage, it will go on to a review by a parliamentary committee.

The bill has gotten increased attention in recent months, however, due to outrage over Finance Minister Bill Morneau's sponsorship of the proposed legislation and the subsequent initiation of an investigation by the federal ethics watchdog.

The ethics commissioner is specifically looking into whether Morneau broke federal conflict of interest laws by sponsoring the pension bill while he still owned millions of dollars in shares in his family human resources company, Morneau Shepell, which stands to benefit from the proposed changes.

Act now and tell your MP to scrap Bill C-27.


Veterans' lifelong pensions and veterans' services

Shortly before the holidays, the Liberal government announced it would reintroduce lifelong pensions as an option for Canada's disabled veterans who retired after 2006. Now, 2018 is expected to be a year of preparation for their implementation. 

The current New Veterans Charter only allows for a lump-sum payment upon retirement, whereas former soldiers who had to stop working due to illness or injury under the pre-2006 Pension Act receive monthly pension payments for life. Veterans have complained that the charter provides them with less financial assistance over the long term than the old system.

The long-awaited new compensation plan, announced December 20, is also consolidating six existing income support benefits into one and is introducing a new benefit for veterans with "severe and permanent impairment" related to their military service. 

The plan, titled "Pension for Life", isn't effective immediately; the government said it will come into effect on Apr. 1, 2019 and will apply retroactively.

Reaction to the new plan has been mixed, with critics saying the new plan still doesn't bring compensation levels up to those under the old Pension Act. Government officials provided a few hypothetical scenarios in which catastrophically injured, younger veterans might get more money over their lifetime than under the old system, but Veterans Affairs Minister Seamus O'Regan said he can't guarantee that will happen for the average veteran.

O'Regan acknowledged the new plan is "not going to please everyone" – but added no retiree will see a reduction in benefits as a result of the new model.

"This isn't some 'mission accomplished' moment. This, in many ways, is just the beginning," he said.

Based on O'Regan's comments in December, it's expected the Department of Veterans Affairs will use 2018 to craft and table a bill – which then has to go through the regular legislative process. The minister said the department also has to prepare logistically to administer the new plan.

Another ongoing project for O'Regan, as outlined in his mandate letter from the prime minister, is to work with the minister of National Defence to "reduce complexity and strengthen partnerships" between the two departments.

The pensions are likely to become an area involving increased collaboration. O'Regan said in December that his department will undertake "a focused campaign to educate both clients of [Veterans Affairs] and serving members of the Canadian Forces" to ensure that "everyone will have the information they need to make the best decision for their well-being."

The 2017 budget also announced funds for a new "centre of excellence" in veterans' care, with a focus on PTSD and other mental conditions. 2018 is expected to be the initiation of the four-year funding rollout but the government has yet to share specifics about how that will happen.