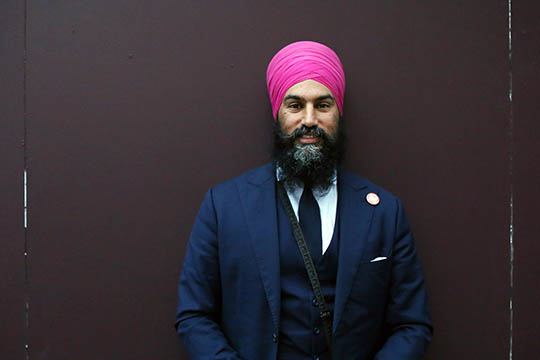 The NDP party, under Jagmeet Singh, promises to expand Medicare to include prescription drug coverage and to fight hard to protect pensions.
 
Note: The Association requested an interview with NDP Leader Jagmeet Singh, but his party officials declined the invitation. However, the NDP's 115-page platform allowed us to learn many of the measures the party, if it wins power, will take on such issues as long-term care and a national seniors strategy, pharmacare, veterans issues and pensions.
National standards for long-term care, protection of defined benefit pensions, a pharmacare program by 2022, veterans as a priority — the NDP promises plenty in its platform.
 
Long-term care and seniors strategy
The platform states that every senior should have "access to the care they need, helping them remain in their own homes." The NDP plans to address the problems of inconsistent standards and ongoing staff shortages in long-term care across the country.
The party promises to end private, for-profit long-term care and bring long-term care homes "under the public umbrella." It says it will work with patients, caregivers and provincial and territorial governments to develop national care standards for home care and long-term care, regulated by the same principles as the Canada Health Act. Federal funding for long-term care homes will be conditional on meeting these national standards.
With respect to home care services, using the leverage of funding, the party plans to determine a "core basket" of home care services that will be covered by provincial insurance plans.
The party plans to work with the provinces to develop strategies to recruit and protect front-line staff, and ensure a safe working environment for personal support and health-care workers, including not only safety protection, but better wages and job stability.
 
Pharmacare
The party promises to expand Medicare to include prescription drug coverage for anyone, a program it says can start as early as 2022, with an annual federal investment of $10 billion.
The party will also develop a national strategy to cover drugs for rare diseases.
Canadians will only "need your health card — not your credit card — at the pharmacy till." Such a policy will put "an end to costly co-payments, deductibles and premiums that cost families hundreds and even thousands a year."
Drug prices will be reduced through government negotiating prices with pharmaceutical companies.
This pharmacare program "will mean a healthier Canada where no one has to make the impossible choice between the medicine they need and other essentials, [such as] rent and food."
 
Veteran's issues
The NDP platform says veterans have had to fight too hard for the benefits that are owed them. There are long wait lists for services. Billions of dollars earmarked for veterans care has been left unspent.
If it assumes power, the NDP promises to "honour the special bond of mutual obligation between Canadians and veterans, and deliver the services veterans need and deserve."
An NDP government will work with veterans to develop a system that provides fair benefits, including access to lifetime pensions. The party will get rid of backlogs, provide one caseworker for every 25 veterans, hire more disability adjudicators, and improve services delivered by phone and online.
The party will also ease the transition from military to civilian life. Members of the Canadian Armed Forces will have access to care and support before the transition; benefits will be in place before their release from service; and allowances for caregivers of returned veterans will be increased.
An NDP government will work with stakeholders to end veteran homelessness.
To ensure budget money earmarked to veterans gets spent, it will carry forward all lapsed spending at  Veterans Affairs from one fiscal year to another.
The party will make the Veterans Ombudsman fully independent.
 
Pensions
As Canada comes out of the COVID pandemic, the NDP states that we face "a critical moment to strengthen our social safety net and to improve income supports so all Canadians can live in dignity and security."
The party intends to fight hard to protect pensions. Initially, an NDP government will ensure the interests of pensioners are of first concern when a company goes bankrupt. Unfunded pension liabilities and employees' severance pay will be top priorities.
The NDP will stop companies from paying out dividends and bonuses when pensions are under-funded, and create a mandatory pension insurance program to make sure pensioners actually receive the pensions they are expecting.
The NDP will protect defined benefit pensions across the country.
With respect to Old Age Security, an NDP government will create a pension advisory commission to enhance the benefit, boost the Guaranteed Income Supplement to lift all seniors out of poverty, and strengthen the Canada Pension Plan. The platform goes further and discusses the provision of a "guaranteed livable income for all Canadians," including seniors. This guaranteed income will "strengthen our social safety net and finally ensure dignity, security and peace of mind for everyone in Canada."