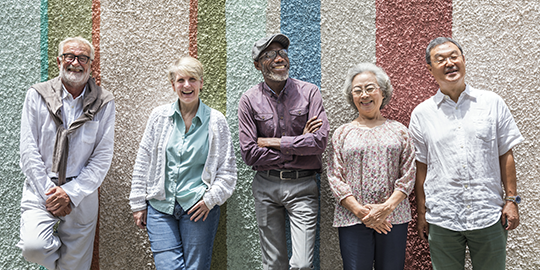 National Seniors Day
October 1 of each year is National Seniors Day, which coincides with the United Nations International Day of Older Persons and is an occasion for Canadians to celebrate the profound contributions of seniors in our homes, communities, and workplaces.
For all they have done for us and all they continue to do as friends, partners, parents, grandparents, volunteers, colleagues and so much more, older Canadians deserve our heartfelt thanks. One of the best ways to demonstrate our appreciation is to ensure that our cities and communities are good places to grow up and grow older. We hope you'll join us in supporting the call for a National Seniors Strategy to recognize and anticipate the needs of aging Canadians.
History
The 2010 Speech from the Throne (SFT) announced that the Government would support legislation to create a National Seniors Day. The Celebrating Canada's Seniors Act received Royal Assent on November 18, 2010.
In accordance with this legislation, October 1 is now recognized as National Seniors Day. Canada's very first National Seniors Day was celebrated on October 1, 2011.
Getting Involved
National Seniors Day is a great opportunity to demonstrate your appreciation for the seniors in your life. Whether you reach out to a loved one with a letter, email or phone call or decide to participate in a community event, how you choose to celebrate is up to you!
Be sure to check out your provincial or territorial website for seniors' resources and upcoming Seniors Day events.
Spreading the Word
Social media is a great way to join the conversation about National Seniors Day and the importance of older Canadians in our lives.
If you're on Facebook, use our sample post below to spread the word or follow us at www.facebook.ca/FederalRetirees and share our posts (and stay updated on the latest news). 
National Seniors Day is October 1. Don't miss this opportunity to celebrate the amazing seniors in your life!
If you're on Twitter, use the hashtag #SeniorsDay or #NationalSeniorsDay, share our sample post below, follow @fedretirees to share our posts (and stay updated on the latest news) or click here to post our auto-Tweet right away!
#NationalSeniorsDay is October 1. Celebrate the amazing #seniors in your life!
Additional Resources
Federal Retirees has long supported a National Seniors Strategy focused on homecare, housing, and community life. The first step in the campaign for a National Seniors Strategy is contacting your Member of Parliament.
The Government of Canada National Seniors Day webpage and Seniors in Canada Facebook Page offer additional information and helpful links.
Visit www.canada.ca/seniors for a wealth of resources, programs and information for seniors including the popular Benefits Finder tool.
The United Nations website offers background information and resources regarding the International Day of Older Persons. The theme this year is "Celebrating Older Human Rights Champions".