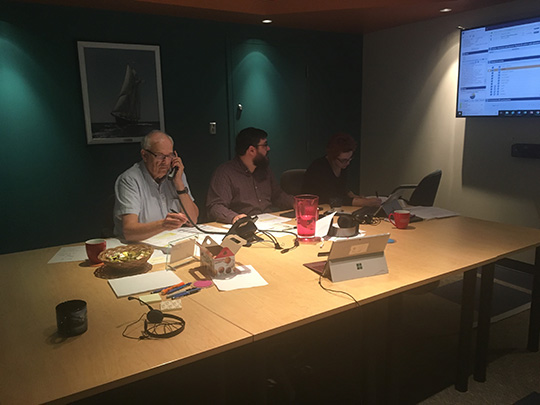 In anticipation of the upcoming provincial election on September 24, Federal Retirees hosted its first telephone townhall for members in New Brunswick.
A telephone townhall is a live event that allows participants to interact with provincial candidates simply by answering their phone from the comfort of their own home.
Similar to a radio talk show, participants can ask question and join in quick polls.
Hosted by Léonard LeBlanc, District Director from the Atlantic region, the provincial candidates included David Coon (Green Party), Marcel Doiron (Progressive Conservative Party), Chris Durrant (New Democratic Party), and Lisa Harris (Liberal Party).
Over 600 New Brunswickers from across the province participated in the town hall.
Members asked questions about policies geared to improving the quality of life for seniors and the people of New Brunswick, including support for a National Seniors' Strategy, retirement security, affordable housing and care, wait times, the environment, provincial debt and age-friendly communities.
Charlene from Saint John called in to ask the candidates about the growing wait times for specialists in New Brunswick. "The sickest people are waiting to see specialists," she explained, and asked what the candidates will do to "stop these wait times and stop suffering" without spending more money.
Members also participated in interactive polls about their priorities for this upcoming election. For instance, 48 per cent responded that accessible and affordable long-term care is the issue that concerns them the most.
Didn't get the chance to call in and participate? Listen to our recording and hear more about how the candidates answered Federal Retirees' questions about seniors care in New Brunswick.
The first event of this kind, Federal Retirees will be looking to host similar telephone town halls to engage with members across the country as we lead up to the federal election in 2019.
Keep in mind the issues that matter most to you and to New Brunswick seniors when voting on September 24. If you're not sure where to vote, use this tool from Elections New Brunswick to find your local polling information and consider your plan to vote on September 24.