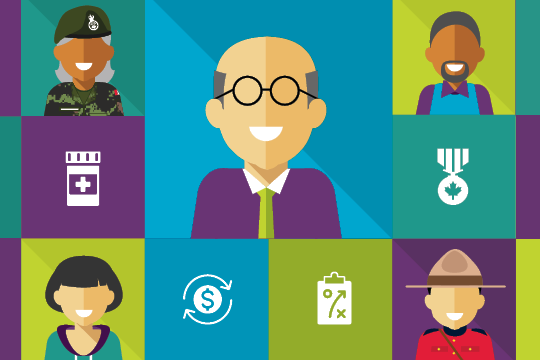 Our federal and provincial governments have an important role to play in adapting public policies and systems to the needs of today's growing seniors demographic and in future-proofing our policies and systems for tomorrow's seniors.
In this fall's federal election, the National Association of Federal Retirees has set out four key priorities: retirement income security, a National Seniors Strategy, support for veterans and their families, and pharmacare.

Check back often for events, news and updates on election events happening across the country and how Federal Retirees is getting involved.
News and Events
Election 2019: Our Priorities

Election 2019 – what's your priority?
Scheer teases retirement security priorities in election platform at Manning Centre conference
Seniors a key demographic in Ottawa's 2019 budget
Vibrant Voices campaign amplifies seniors' views on federal issues | Organizations representing 2 million seniors meet MPs to highlight key issues
Inside Advocacy — A look at what goes into building effective advocacy campaigns that create change
---
Previous elections
Alberta, Prince Edward Island and Newfoundland Labrador 2019
Three provincial elections across the country keep Federal Retirees busy this spring
New Brunswick Provincial Election 2018
Election results are uncertain, but our message is clear
Federal Retirees host first telephone townhall
New Brunswick Election Telephone Town Hall – Coming up September 11
RSVP: Fredericton & District Branch Town Hall with Provincial Candidates – August 28, 2018
Quebec Provincial Election 2018
Quebec election delivers a new government
The National Association of Federal Retirees recommends its budget priorities to the Finance Committee of the House of Commons Hearing Committee on October 3, 2018 at the Quebec City Convention Centre
Candidates debate seniors' issues at Quebec election event
Quebec Election Debate – Quebec City, September 5
Quebec Budget 2018 – Pre-Election Spending
Federal Retirees endorses the campaign "for a Quebec worthy of its seniors" for upcoming election
Ontario Provincial Election 2018
Vibrant Voices campaign amplifies seniors' views during Ontario election
WATCH: Seniors issues take centre stage at Vibrant Voices Town Hall
How will the Ontario parties tackle issues facing seniors?
The conversation is just getting started, says Vibrant Voices