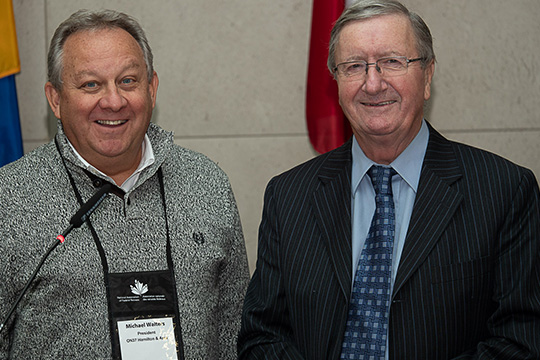 Photo credit Rose Norman
Michael Walters, President of the Hamilton & District Branch (left) and Federal Retirees' President Jean-Guy Soulière (right).
With notes from Michael Walters, President of the Hamilton & District Branch
On October 1, National Association of Federal Retirees President Jean-Guy Soulière attended and spoke at the 4th annual International Day of Older Persons Open House at Hamilton City Hall. In collaboration with various local seniors' organizations, Federal Retirees Hamilton & District Branch played a key role in the event's success.
"Seniors represent the fastest growing demographic in the country, making collaborative events like this one even more important," said Jean-Guy Soulière. "By working together, we can continue to raise the issues that are important to seniors and ensure they are addressed by our local, provincial and federal governments."
With over 350 people in attendance, this year's Open House was the largest annual celebration to date. In addition to Soulière's remarks on retirement security and the challenges facing Canadian seniors today, special guest speakers included Dr. Parminder Raina from McMaster University, Lisa Bastien from the Canadian Labour Congress, and Natalie Mehra from the Ontario Health Coalition. Dignitaries in attendance included Hamilton Mayor Fred Eisenberger, several city councillors and local Members of Parliament and Provincial Parliament. Unfortunately, the newly named Minister of Seniors Filomena Tassi, who represents the Hamilton area, declined the invitation to attend.
"It was a pleasure to work with such a diverse, dedicated group of volunteers to pull together this year's celebration," said Michael Walters, President of the Federal Retirees Hamilton & District Branch. "Every year, the event gets bigger and better – I am already looking forward to how we continue to expand the event and increase our impact next year."