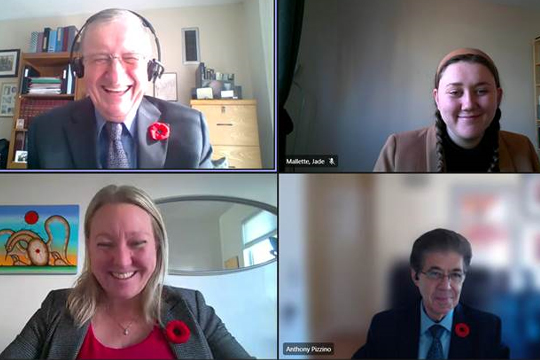 The new Treasury Board president recently connected with Association president Jean-Guy Soulière and CEO Anthony Pizzino to discuss retirement security.
 
Parliament is set to resume in a week, and Federal Retirees is at work to represent members' priorities with new MPs – including ministers and critics – as the new session begins.
On Nov. 10, Federal Retirees president Jean-Guy Soulière and CEO Anthony Pizzino met with the newly appointed Treasury Board president, Minister Mona Fortier.
"Federal Retirees had a very positive meeting with Minister Fortier, who plays a critical role with our members' pensions and benefits," says Federal Retirees CEO Anthony Pizzino. "To meet so quickly following her appointment signals the importance of our Association and our relationship with the Treasury Board president."
As the government's agenda takes shape, Federal Retirees expects action on the priorities that matter to our members and all older Canadians.
Soulière and Pizzino outlined Federal Retirees' priorities for the start of the parliamentary session.
"Negotiations on the Public Service Health Care Plan are ongoing. Federal Retirees expects the renewal to remain a priority of this government, so that the health care plan is negotiated fairly and expeditiously," says Soulière.
Pizzino focused on the need to negotiate a fair update for the Pensioners' Dental Services Plan. Good oral health is essential to overall health and well-being, and the dental plan must reflect the rising cost of services and medical advances.
Federal Retirees members expect this government to follow through on its commitments on retirement security, including upholding the pensions and benefits federal retirees and veterans earned during their years of service to Canada.
"Pandemic recovery, the economy and the federal deficit will be critical topics over the coming months and years," says Pizzino. "We expect the usual calls attacking public sector pensions — but we're clear that our members' pensions were earned during their working years, that they are important contributors to communities, the Canadian economy and that retirement security should never be about a race to the bottom."
Fortier offered her thanks to Soulière for his long service as president of Federal Retirees, as well as her gratitude to the members of Federal Retirees who served Canada during their careers. The minister also committed to continuing to build her relationship with the Association and emphasized that she will listen, collaborate and work through any challenges that may come.
In the coming months, Federal Retirees will continue to share its message with elected representatives. If you want to get involved in advocacy, consider joining Reach 338 — our nationwide network of advocates working to improve the quality and security of retirement for our members and all Canadians.