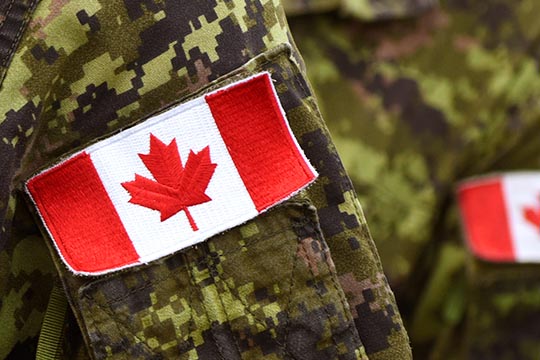 The Veterans Ombudsman Commendation recognizes the outstanding contributions of individuals and groups across Canada who work to support veterans and their families.


 
Federal Retirees is honoured to be awarded the Veterans Ombudsman Commendation for work over the Association's 57-year history of advocacy to further veterans' well-being.
View the video message from the Office of the Veterans Ombudsman below.
In recent years, the Association has researched and engaged veterans to learn more about veterans' needs, influence policy and ensure all veterans and their families are adequately and equitably supported. The research included online surveys and 12 veterans town halls across Canada, which resulted in the publication of a substantial report and two summits that brought stakeholders together to support better cross-promotion, inclusion and collaboration to deliver better outcomes for veterans.
Today, the Association places an emphasis on advocacy for women veterans — of both the military and the RCMP — and their families. For example, it is calling on government for a greater integration of gender-based analysis across program and policy areas, particularly in research questions. Of special note, the Association is working with leaders in women veterans' advocacy to support the Women Veterans Research and Engagement Network (WREN), a multi-disciplinary group that leverages its collective expertise and experience to draw attention among federal politicians and Canadians to the unique needs and challenges of women veterans of the military and RCMP.
"We're honoured to have received the Veterans Ombudsman Commendation," says Association president Jean-Guy Soulière. "It's incredibly meaningful to be recognized in this way, particularly to stand next to the other recipients who have served Canada and their fellow veterans with such dedication. We plan to continue to meet the needs of our 60,000 veteran and veteran family members — and Canadian veterans — through advocacy, and continuing collaboration with the Women Veteran Research and Engagement Network, or WREN, with a focus on better, more equitable outcomes for all veterans." 
For more information about our work to support veterans, visit our advocacy priorities page for veterans' issues.
The Veterans Ombudsman Commendations are awarded annually to nominated individuals, groups, businesses or organizations that have made an exceptional contribution to the well-being of veterans and their families.
To learn more about the Veterans Ombudsman Commendation including the nominations guidelines, visit the Office of the Veterans Ombudsman online.