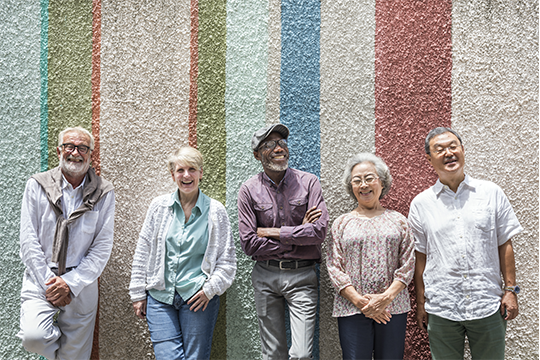 National Seniors Day
October 1 of each year is National Seniors Day, which coincides with the United Nations International Day of Older Persons and is an occasion for Canadians to celebrate the profound contributions of seniors in our homes, communities and workplaces.
For all they have done for us and all they continue to do as friends, partners, parents, grandparents, volunteers, colleagues and so much more, older Canadians deserve our sincerest thanks.
One of the best ways to demonstrate our appreciation is to ensure that our cities and communities are good places to grow up and grow older. In the upcoming election, we hope you'll join us in supporting the call for a National Seniors Strategy to recognize and anticipate the needs of aging Canadians.
There are critical interconnected pillars of a National Seniors Strategy:
•    Independent, Productive and Engaged Citizens
•    Healthy and Active Lives
•    Quality Care Closer to Home
•    Support for Caregivers
Parts of the strategy are focused on improving the quality of health care, recognizing and providing support for caregivers as well as ensuring that the health care system is equipped to meet the needs of an aging population. Addressing the social determinants of health and tackling social isolation and creating age-friendly communities are equally important components.  

For more information about this and our three other election priorities, take a look at our helpful FAQ article.
Getting Involved
National Seniors Day is a great opportunity to demonstrate your appreciation for the seniors in your life and your community. Here are some tips for getting involved, but don't hesitate to be creative and find your own special way of marking the occasion!
Catch up with a senior friend, parent or grandparent on the phone.
Send a heartfelt letter or card to a senior loved one.
Invite a senior friend or family member for tea or coffee.
Learn about your family history or work on your family tree.
Enjoy home videos or photo albums with a senior in your family.
Host a classic movie night or watch a favourite film with a senior in your life.
Visit or volunteer at a local seniors' centre.
Celebrate intergenerational learning and ask a senior to teach you something new.
Reach out and help a senior with an errand or chore.
Start an intergenerational get-together like a cooking night or a book club.
Offer special promotions for seniors at your store, restaurant or establishment. 
Organize a Seniors Day community breakfast or another celebratory event.
Attend a flag-raising ceremony or another local Seniors Day activity.
Be sure to check out your provincial or territorial website for seniors' resources and upcoming Seniors Day events.

Social Media
Social media is a great way to join the conversation about National Seniors Day and the importance of older Canadians in our lives. Use the social media hashtag #SeniorsDay or #NationalSeniorsDay to share your thoughts and well-wishes.
Visit our feeds to share our Seniors Day posts too! Don't forget to follow us on Facebook and Twitter to stay up to date on our advocacy work and important news affecting seniors, retirees and soon-to-be retirees.
Additional Resources
Federal Retirees has long supported a National Seniors Strategy focused on homecare, housing, and community life. We hope you'll take part in our 2019 election campaign and support our election priorities!
The Government of Canada National Seniors Day webpage and Seniors in Canada Facebook Page offer additional information and helpful links.
Visit www.canada.ca/seniors for a wealth of resources, programs and information for seniors including the popular Benefits Finder tool.
The United Nations website offers background information and resources regarding the International Day of Older Persons. The theme this year is "The Journey to Age Equality", placing the focus on coping with existing — and preventing future — old age inequalities.