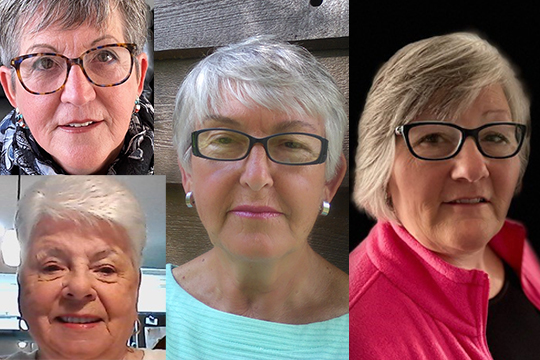 The National Association of Federal Retirees is pleased to welcome four advocacy program officers for Ontario (from top left Sheila Ducarme, Sharon McGovern, Linda MacDonald and Karen Dekold).
 
Federal Retirees is pleased to welcome Karen Dekold, Sheila Ducarme, Linda MacDonald and Sharon McGovern as the new advocacy program officers (APO) for Ontario.
The Ontario APOs will work together to support Ontario volunteers in their advocacy work. Each APO will support a group of branches, divided geographically, as follows:
Karen Dekold will support the Hamilton & Area, Niagara Peninsula, Peel-Halton & Area, Toronto & Area and York branches.
Sheila Ducarme will support the Kingston & District, Peterborough & Area, Quinte and Quintrent branches.
Linda MacDonald will support the Algoma, Huronia, Huron North, Near North and Thunder Bay & Area branches.
Sharon McGovern will support the Bluewater, Kitchener-Waterloo & District, London and Windsor & Area branches.
Keep reading to learn more about the new Ontario APOs.
Dekold resides in Windsor with her husband of 34 years, Bernie. She retired in February 2022 after 34 years of employment at the Canada Border Services Agency.
Prior to starting in public service, Dekold earned a journalism diploma. While in public service she added to this education by completing her bachelor's degree in adult education from Brock University. She also obtained a certificate in dispute resolution and a certificate in advanced negotiation and mediation skills, both from York University.
Dekold started her career as a border services officer at the Ambassador Bridge. For 11 years, when her family was young, she took part in the job-sharing program. After those 11 years, she returned to full-time status and had short assignments as a communications officer, a technical writer and a technical training instructor. For the last 14 years of her career, she worked remotely as a senior program officer on national teams for headquarters and the greater Toronto region.
Dekold applied her education to her career as a confidential workplace mediator and acted as the informal conflict management system coordinator-counsellor. She also facilitated over 50 sessions as a union representative for the Joint Learning Program, a program mandated to improve workplace relationships and deepen understanding of the respective roles and responsibilities of the union and the employer. She was also a member of a branch wellness committee.
Outside of work, Dekold has been a member of a local school parents advisory committee as well as the property standards and planning advisory committees for the City of Windsor. Dekold and her family have hosted three Rotary exchange students in their home.
She is currently a member of the 100 Women That Care Windsor chapter and a manager of the Sleep in Heavenly Peace Windsor chapter.
Dekold has been awarded the Peace Officer Exemplary Service Medal and the Queen Elizabeth II Diamond Jubilee Medal.
Dekold is a nana to two grandsons and is awaiting her third in the spring. She enjoys her time with her Ottawa-area grandsons and looks forward to a local grandson as well. Dekold loves travelling and exploring the world but also discovers wonder in locations in the southern Ontario corridor between Windsor and the National Capital Region.
Dekold is a very recent new member of Federal Retirees and looks forward to learning more about the organization and participating in advocacy campaigns that improve retirement in Canada.
 
After a brief absence, Ducarme is delighted to resume the role of advocacy program officer and return to advocating and collaborating with the Federal Retirees advocacy team.
Ducarme's passion for advocacy was ignited during the COVID-19 pandemic, watching the plight of older adults across Canada.
After a 37-year career with the federal government, working with politicians at the federal, provincial and municipal levels, Ducarme knew firsthand that Canadians could do better.
"We have to do better. By 2031, nearly one quarter of all Canadians will have reached the age of 65. Apathy is not going to improve our future," says Ducarme. The National Association of Federal Retirees is our mechanism to unite and move forward on improved policy for Retirees. I look forward to supporting the branches in Ontario as we work together to advocate and build a better future for all seniors."
 
MacDonald was born and raised in Sault Ste. Marie, Ontario. She attended Cambrian College of Applied Arts and Technology, graduating in industrial chemistry, which led to her first job as a technician in the chemistry department at the University of Guelph.
After three years, MacDonald returned home to begin what would be a 30-year career with the Canadian Forest Service, during which time she worked in analytical method development employing mass spectrometry for the identification of insect pheromones, herbicides and host plant volatiles.
An activist at heart, MacDonald was president of her local Public Service Alliance of Canada (PSAC) union branch for much of that time. She represented her peers on workplace health and safety and union management consultation committees, at technicians' forums and in the rewriting of the Engineering and Scientific Support (EG) classification standard.
She joined the Algoma Branch of the National Association of Federal Retirees (Federal Superannuates National Association at the time) upon retirement in 2004. She joined the branch board a year later becoming president in 2006 — a position she held until 2016 when she joined the national board of the Association.
During her six years as a member of the national board, she served on the advocacy committee (2016-2022, chair 2020-22) as well as on the governance, nominations (chair), human resources and planning and volunteer recognition committees.
When her second board term ended this past June, MacDonald returned to her branch to serve as president. She continues to be a member of the national advocacy committee and serves as a Federal Retirees representative on the Ontario seniors liaison committee.
MacDonald has been a member of the Sault Ste. Marie and Algoma seniors health advisory committee for many years, currently serving as chair.
MacDonald is a passionate amateur genealogist. She is also a member of the heritage committee in Laird Township where she lives and is an avid curler.
McGovern was born and raised in Windsor, Ontario. McGovern graduated from Walkerville Collegiate and received a university equivalency while working at Bath Institution.
McGovern worked for the Correctional Service of Canada from 1976 to 1997, as a clerk in three Kingston Ontario Penitentiaries and one Alberta penitentiary. McGovern worked for the Parole Board of Canada in Kingston, London and Windsor, and in 1997 was transferred to Veteran Affairs in Windsor, Ontario, from which she retired in 2002.
McGovern joined FSNA, as it was called then, in 2002, first joining the Windsor & Area Branch as membership chair in early 2009 and then also becoming vice president in the fall of 2009. In 2010, McGovern became was elected branch president — a position she held until 2022.
McGovern accepted the branch advocacy role when the Reach 338 initiative began and continued in that role until May 2022.
McGovern and her partner have six grandchildren and nine great-grandchildren. She loves to golf at least twice a week, and travel as much as she can.
McGovern looks forward to being the APO for western Ontario, working closely with other APOs, district directors, branches and advocacy staff at national office, to make sure Federal Retirees' priorities are heard by government officials in Ontario and across the provinces.
Advocacy Spotlight showcases successful initiatives and projects put forward by our dedicated volunteers and supporters.
The National Association of Federal Retirees has a proud history of advocacy on behalf of our members and all retirees. In collaboration with our volunteers and supporters from coast-to-coast, we continue this tradition of strong, smart advocacy campaigns focused on improvements to the financial security, health and well-being of our members and all Canadians.
Our success is not only measured in policy changes and legislation. It grows with every meaningful discussion with parliamentarians, and with every email and letter written. Together, we are achieving and surpassing our strategic advocacy goals and targets every day.