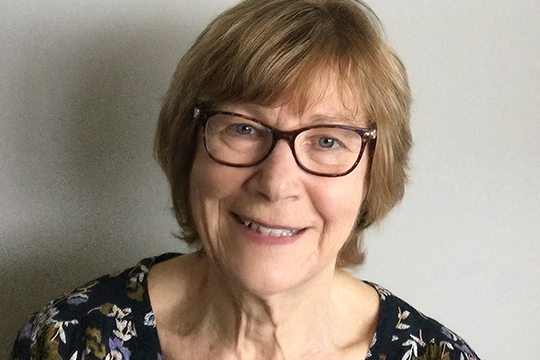 Anne MacEwen has been a dedicated volunteer with the Summerside Branch since 2015 and is now taking on the exciting role of advocacy program officer.
 
Federal Retirees is pleased to welcome Anne MacEwen as the new advocacy program officer (APO) for Prince Edward Island.
MacEwen takes over from Shirley Pierce, who is stepping down from her role as APO, but will still be involved in advocacy at the branch level.
MacEwen is a committed community member who has volunteered with many organizations over the years to improve the lives of fellow Islanders and with the Stephen Lewis Foundation's Grandmothers to Grandmothers Campaign to improve the situation of grandmothers in Africa.
MacEwen retired from the Canada Revenue Agency Summerside Tax Centre on Dec. 31, 2011. In addition to her regular employment duties, she was a peer referral agent for the centre's Employee Assistance Program. "This was a volunteer position that was very fulfilling because it provided an important and appreciated service to management and staff," says MacEwen.
Shortly after her retirement, MacEwen joined the "FSNA" (as it was called at the time) to maintain relationships with former co-workers but soon discovered the many benefits of the organization for retirees.
"There are so many benefits to being a Federal Retirees member — not only the travel insurance, but the interesting guest speakers at meetings, and the advocacy for all seniors," says MacEwen. "Federal Retirees fits very well with my philosophy of life-long learning."
MacEwen became branch secretary at the Summerside branch in 2015 and then branch advocacy officer in 2019.
"As the branch secretary, I helped plan advocacy events and found the work valuable and rewarding. So, I was only too happy to accept the additional role of branch advocacy officer when the incumbent became our vice president," says MacEwen.
"It seemed a natural progression to now take on the provincial role, especially when I had the promise from Shirley Pierce that she would be there to help me. I have already discovered the amazing support provided by the advocacy staff in Ottawa to be very reassuring as I take on this new challenge," continues MacEwen.
She is a lifelong resident of P.E.I. (except for three years spent in New Brunswick) and a graduate of the University of Prince Edward Island. MacEwen has four children and five grandchildren who all live off-Island, but this affords her and her husband the fun of visiting them in Ontario and Germany. Since retiring, she has also discovered a love of golf but shares that nine holes are plenty!
In her new role as advocacy program officer for P.E.I., MacEwen will be working closely with branch and Reach 338 volunteers to make sure Federal Retirees' priorities are heard and understood by government officials all across P.E.I., and across Canada.
The more advocates we have taking part in Reach 338, the greater our impact will be. If you're interested in joining this nationwide network of advocates, sign-up to join the Reach 338 network today!
About Advocacy Spotlight
Advocacy Spotlight showcases successful initiatives and projects put forward by our dedicated volunteers and supporters.
The National Association of Federal Retirees has a proud history of advocacy on behalf of our members and all retirees. In collaboration with our volunteers and supporters from coast-to-coast, we continue this tradition of strong, smart advocacy campaigns focused on improving the financial security, health and well-being of our members and all Canadians.
Our success is not only measured in policy changes and legislation; it grows with every meaningful discussion with parliamentarians and with every email and letter written. Together, we are achieving and surpassing our strategic advocacy goals and targets every day.