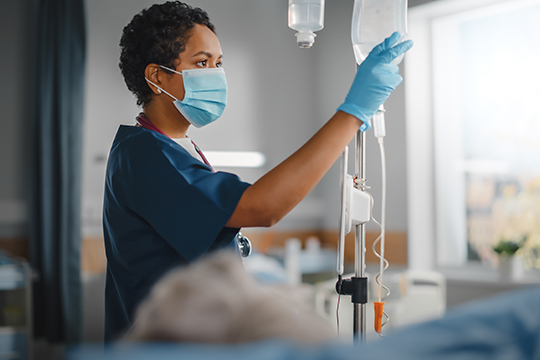 Doug Ford's Ontario budget puts a focus on hospital infrastructure, with $10 billion for more hospitals and health-care centres.
 
On the cover, Ontario Budget 2022's 268-page document, there's a sunset photograph of free-flowing traffic on Highway 401, sun-dappled skyscrapers in the background. The art is apropos as there is a lot of money going to commuters in Ontario Finance Minister Peter Bethlenfalvy's election-ready fiscal plan.
Since the Legislature rose shortly after its reading, and there will be no vote on the budget, it is essentially a campaign platform that offers $198.6 billion in new spending, most of it on infrastructure, pushing back promises for a balanced budget until 2027-28.
If the Tories are re-elected and follow through on this budget, spending will increase annually by 5.1 per cent a year to 2024-25. Revenue growth is predicted at 4.3 per cent annually over the same period. That means a few years of rising deficits for what Bethlenfalvy describes as "one of the fastest-growing economies in North America."
The budget features five themes: rebuilding Ontario's economy; working for workers; building highways and key infrastructure; keeping costs down; and a plan to stay open.
There is no new money for long-term care (LTC) per se in the budget. It reiterates that Ontario now has more than 31,000 new beds and more than 28,000 upgraded ones in the development pipeline. Further, it's on track to build more than 30,000 new beds across the province by 2028. Those investments were made in 2019.
But there's a new promise of $60 million over two years, starting in 2022-23, to continue expanding the Community Paramedicine for Long‐Term Care program. The program aims to divert patients to forms of care other than hospital emergency rooms.
The budget promises $300,000, beginning this year, to support educational sessions and program materials in French, to help francophone long-term care residents and their families.
There's an additional $5 million a year for three years to support individuals with dementia and their caregivers.
Home care is the biggest financial push for housing for older adults. There's an additional $1 billion coming over the next three years. This new funding is targeted to support home-care providers, address rising costs, support recruitment and training and expand services.
An additional investment of $15 million over the next three years goes to support making homes safer and more accessible. Eligible individuals may receive a grant of up to $15,000.
Nearly $100 million in additional funding is promised over the next three years to expand community care programs such as adult day programs, meal services, transportation, assisted-living services and caregiver supports.
The budget also promises $55 million for Ontario Community Support, which provides meals and medicines to low-income seniors.
To help seniors aged 70 and older with eligible medical expenses, including expenses that
support aging at home, a new, refundable Ontario Seniors Care at Home Tax Credit is offered. In 2022, the new credit would provide an estimated $110 million in support to about 200,000 low‐ to moderate‐income senior families.
And for everyone over 65, there's $110 million allotted for the Ontario Seniors Tax Credit, saving on average an extra $550 on your tax bill.
For all Ontario workers, the minimum wage goes up 50 cents to $15.50/hour on October 1, 2022.
The government is also proposing an enhancement to the Low‐income Individuals and Families Tax (LIFT) Credit. This would provide an estimated $320 million in additional Personal Income Tax relief per year to about 1.1 million taxpayers.
"The announcement of community paramedicine and home care investments are notable and will help seniors," says Anthony Pizzino, who is the Association's CEO. "We see a lot of tax credits in this budget, which are great for senior-led households with money and means. But what's absent in this election platform budget is a comprehensive plan that truly fixes the health-care cracks that worsened for many older adults during the pandemic, particularly in the long-term care sector, and a vision for a future of healthy, engaged aging in Ontario."  
 
The big spend here is in hospital infrastructure, with $10 billion in new money for more hospitals and health-care centres. More than 50 major hospital projects and some 3,000 new beds are promised over the next 10 years. This includes transforming the Peel Memorial for 24/7 inpatient care; redeveloping the Ottawa Hospital – Civic Campus on a new site; supporting new acute care hospitals in Windsor, Essex County, Huntsville and Bracebridge; and upgrading and future planning for hospitals around the province.
To increase health-care capacity, including critical care in hospitals, $230 million is earmarked for 2022-23. Also, to increase capacity, there's $300 million in 2022-23 into the province's surgical recovery strategy.
"Access to health care is important to our members," says Pizzino. "Ontarians face wait times of up to two and a half years for routine procedures like knee replacements, seniors and youth were locked out of OHIP-insured eye care last fall and a million Ontarians are without a family doctor. During this provincial election, Federal Retirees is demanding investments to improve health-care capacity and access, and to address the surgical backlog. This budget is a start, but Ontarians need to know whether these investments, if realized, will actually fix the problems. We're expecting follow-through and accountability for these spends, and this will be the Association's focus after we all vote on June 2." 
There's $45.2 million for mental health services delivered by health-care clinicians and $56.8 million to support the mental health care needs of first responders in 2022-23.
$49 million is planned over three years to develop new programs to train, recruit and retain critical care workers.
Ontario nurses will receive a retention bonus of up to $5,000, costing $764 million over two years.
Personal support workers will have their pandemic wage top-up made permanent, costing approximately $2.8 billion over the next three years.
To train new health-care workers, $124 million over the next three years is promised to modernize health-care education.
And to support Ontario's first responders, the government is investing $56.8 million in
2022-23 to increase capacity in emergency health services in communities across Ontario.
 
There's $19.2 million over three years promised to increase capacity at the Ontario Land Tribunal and Landlord and Tenant Board. The hope for this investment is to increase housing supply and opportunity.
The Non‐Resident Speculation Tax rate will be increased to 20 per cent and expanded beyond the Greater Golden Horseshoe Region to apply province-wide
 
One of the biggest ticket items in this budget is $25.1 billion over 10 years to support the planning and/or construction of highways across the province. This includes the new Highway 413, Toronto's QEW rehabilitation and upgrades on major road corridors.
There's savings at the pump, too. Gas tax will be lowered by 5.7 cents/litre, and the fuel tax by 5.3 cents/litre, both for six months starting in July.
Licence renewal fees will be eliminated, saving drivers $120 a year in Southern Ontario and $60 a year in Northern Ontario for each passenger and light commercial vehicle.
And for commuters, the Conservatives are permanently removing tolls on highways 412 ($3.74 per trip) and 418 ($7.50 per trip).
To help spur car sales, there's $23.9 million for the digital dealership registration (DDR) program to allow eligible car dealerships to register new vehicles online and issue stock, including permits and licence plates.
And for those who commute without a car, there's the biggest line item in the budget: $61.6 billion over 10 years for public transit. Most of this money lands around Toronto and the GTA, including the new Ontario Line, Eglinton Crosstown Light Rail, planning for a Shepherd extension and a future Scarborough extension. There will also be an expansion of GO Rail services from Bowmanville and London.
 
With no price tag, the budget promises to encourage nuclear and natural gas energy and the development of clean steel and support the auto sector's transitions to making EVs.
There's $91 million for more electric vehicle charging stations, while the Holland Marsh Phosphorus Recycling Facility in York Region gets $24 million for planning and construction.
 
Smarting from the Freedom Convoy experience, there's $96 million promised to respond to unlawful demonstrations at border crossings. That's for equipment, staff and best practices province-wide.
There's $25 million over three years going to the Indigenous Economic Development Fund.
Venture Ontario's venture capital funding will increase from $100 million to $300 million, focusing on life sciences, clean technology, information technology and artificial intelligence.
To train the unemployed into new careers, there's $5 million in new funding this year for Better Jobs Ontario.
And for women, there's $6.9 million over three years to enhance the Investing in Women's Futures program.
To help immigrants with desired labour skills get permanent residency, there's $15.1 million over three years for the Ontario Immigrant Nominee Program (OINP).
The government touts its previous $1 billion investment in the Proposed Ring of Fire Corridor, to link North Ontario's critical mineral ingredients for manufacturing electric batteries to the battery plants in Southern Ontario. In new money, a promised $107 million over the next three years will go to new critical mineral technology initiatives.
The agri-food sector gets $27.5 million to strengthen the food supply and conditions for its workers.
 
The budget promises $1.4 billion to renew and maintain schools for the 2022-23 school year. And for all families, since signing onto the federal national daycare plan, child care will see $13.2 billion invested with the federal government by 2026-27.An additional $1 billion goes for employment and training programs to help people retrain and upgrade their skills.
The postsecondary tuition freeze is extending for another year, and $114.4 million is targeted toward trades education and apprenticeships, including a Talent Accelerator grant and grants for apprentices buying tools.
The budget offers additional funding of $268.5 million over three years to strengthen the government's skills training and employment programs, including pandemic recovery initiatives.