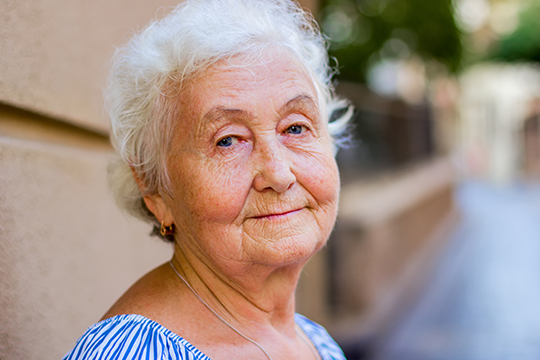 With the Ontario election on the horizon, it's time to address healthy aging, access to health care and the crisis in long-term care.
 
The last two years have been challenging for older Ontarians and their families ⁠— and for too many, tragic. Health and access to health care have been hit hard.
Ontario needs a plan to ensure older adults can access safe, high-quality health care when they need it the most. Older adults must be involved in policy decisions that impact their well-being and care.
Ontario's next government must commit to an independent senior's advocate and a comprehensive seniors' strategy that encourages age-positive well-being and age-friendly communities. It's time to address healthy aging, deteriorating access to health care and better home care and long-term care ⁠— and this provincial election is our moment to make that happen. 
For the Ontario 2022 provincial election, Federal Retirees is calling for:
Home care, community care and long-term care standards with better regulation, oversight, accountability and transparency to deliver better care and outcomes. 
An independent seniors advocate and a provincial senior's strategy that encourages age-positive well-being and age-friendly communities, with older adults involved in policy decisions that impact their well-being. 
Funding to meet the needs of older adults, including vision care, health human resource planning and the immediate need to address backlogged surgeries and other procedures.
Help make sure every candidate in this Ontario election hears this message.
There are plenty of ways to get involved in this election, and Federal Retirees is making it easy. Use the tools below to send letters, hold meetings and get the word out about the priorities that matter most to older adults this election.
 
You never know when you will get a chance to ask candidates or their campaigners about their positions on the issues most important to older adults in Ontario. Keep this fact sheet handy for quick facts and use these questions when connecting with candidates and campaigners.
Use this fact sheet to meet with candidates ⁠— either in-person or virtually ⁠— host a candidate town hall or pose questions during a community meeting.
Download your copy of the Ontario Election 2022 Fact Sheet
 
This easy-to-use tool helps you send a letter to candidates in your riding with just a few simple steps! Enter your address to find your candidates, review our pre-written letter (or make edits of your own) and click send. It really is that easy!
Send a message to your candidates today, using our easy online tool:
Note: This letter will be sent to the Ontario provincial election candidates in your riding.
 
These letters are a great way to highlight your concerns with the public and generate discussions about important election issues.  
You may customize the letter to make additions of your own (keeping it respectful, factual and concise). You may also copy the text, paste it into a document on your computer and submit it electronically to your local newspaper by email or through newspaper websites.  
Send a letter to the editor of your local news publications using our easy online tool:
In the lead up to the June Ontario election, Federal Retirees reached out to all the provincial party leaders to speak about issues affecting members, seniors and retirees, including long-term care, health care, environmental policies, child care and the Ontario Guaranteed Income Supplement (GIS). Here's what they had to say.
 
Greens
Green Party of Ontario Leader Mike Schreiner promises to eliminate election gimmicks, such as the PC's car registration kickback, hire more staff for long-term care and pay early childhood educators better.
Liberals
Liberal leader Steven Del Duca promises more money for low-income seniors, long-term care and better housing for those in it.
NDP
Leader Andrea Horwath promises more to staff up long-term care homes and expand home care while also reducing emissions and raising more green bonds.
Progressive Conservatives
Doug Ford will invest $5 billion to bolster long-term care and another $1 billion to strengthen home care across the province.