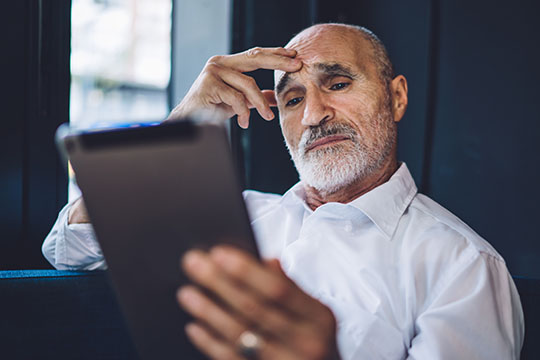 Stay informed and be wary of scammers who will use this public health crisis to try to take advantage of others.
Federal Retirees members may have noticed articles pointing out several COVID-19 related scams that have arisen. A quick scan of social media reveals everything from phone fraud to door-to-door scams.
"Scammers are going to use these uncertain times to try to take advantage of people who are perhaps not as socially connected as normal, who are scared," says Federal Retirees president Jean-Guy Soulière. "We want our members to be safe, so they should be aware of these scams exist and take sensible measures to protect themselves."
There have been reports of:
Text messages from the Canadian Red Cross claiming to offer free face masks
Fraudulent phone calls related to collecting payment for COVID-19 testing
Spam emails selling "COVID-19 Test Kits"
Individuals going door-to-door claiming to be doing testing
Facebook Marketplace and Kijiji fake advertisements for hand sanitizers and face masks
Unauthorized or fraudulent "charities" requesting money for victims or research
Police in several areas have said that should you receive a phone call from someone wishing to come to your home to conduct testing, do not provide the caller with your address or information.
Canadians have also seen an explosion of community-based Facebook groups as part of the "caremongering" initiative. People are joining the groups to give and receive help from each other within communities, particularly people who are more at risk of COVID-19 related health complications and to see the good things happening in their communities too. The caremongering groups have led to acts of kindness, and some have said their local caremongering group has been a lifeline during this strange time.
"While these groups are showing the best of humanity and our communities, there's a chance they could become a stomping ground for scammers looking for vulnerable people," notes Soulière. "Please be sensible and follow best practices when you're connecting with people who may be strangers to you, to make sure you can avoid getting caught up in scams, fraud or unsafe situations."
It's best to follow a few basic rules as you navigate the huge volume of information as well as the uncertainties we're all struggling with right now:
Obtain facts from reputable and official news sources, and beware of spoofed or imitated government, health-care or research sites
Do not click on links embedded in web pages or emails from unreliable or unsolicited sources – if you didn't initiate contact, you don't know who you're communicating to
Be wary of solicitation to send funds quickly, pressure to make a donation or requests for payment for health-related items such as masks, hand sanitizers, air filters or decontamination services
Beware of anyone who claims to have remedies, cures or vaccines, or rapid COVID-19 tests
Don't let strangers into your home, or share personal or financial information
It's important to remain vigilant, and if you suspect you've been the victim of fraudulent activity, contact your local police authority. You can also contact the Canadian Anti-Fraud Centre, or refer to its online resources, for more information.