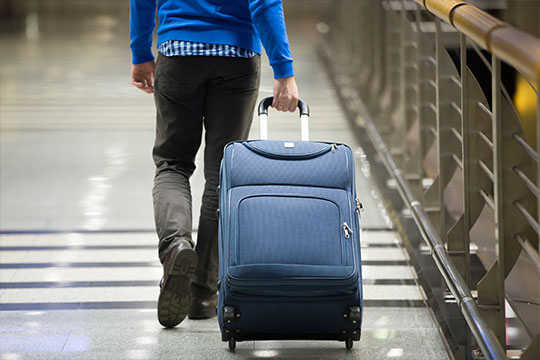 The MEDOC policy that is purchased by members of Federal Retirees is a combination of trip cancellation insurance and medical insurance that supplements the Public Service Health Care Plan (PSHCP). All PSHCP provisions and coverage for PSHCP members and eligible dependants remain the same during the coronavirus disease (COVID-19) outbreak. For additional information on the PSHCP, please consult www.Canada.ca/pension-benefits.
Under the MEDOC policy, coverage is limited if the Government of Canada issues a travel advisory recommending Canadians do not travel to a particular part of the world and either the traveller ignores that advice and travels to that part of the world or, if the traveller is already outside Canada, they do not return to Canada within 10 days of the advisory being issued or a period that is reasonably necessary to safely evacuate the country, region or area.
On March 13, the government of Canada issued an advisory telling Canadians not to leave the country. On March 15, the government advised all Canadians who are outside Canada that they should return to Canada as soon as possible. On March 18, it announced the closure of the Canada–U.S. border to all non-essential travel and urgently advised, once again, that all Canadians return home. Federal Retirees supports the government's position and strongly urges all its members and any of their friends, family members, neighbours and acquaintances to heed the government's advice.
If you experience a medical issue before you are able to return to Canada, your claim may be denied unless you can demonstrate that you were returning to Canada within 10 days of the government advisory being issued — which is March 23 — or a period of time that is reasonably necessary for you to safely evacuate the country, region or area you were in.
Johnson Insurance issued the following statement to Federal Retirees to help clarify its position on MEDOC coverage:
"Ultimately, the safety and well-being of our customers continues to be our top priority and we are working directly with our customers on their specific questions and travel plans. On March 13, 2020, the Government of Canada announced a formal travel advisory to avoid non-essential travel outside of Canada until further notice. We expect most customers to return home to Canada by March 23, 2020. For customers who are trying to make arrangements to return home but are unable to do so before March 23, 2020, coverage will remain in place until they are reasonably and safely able to return home, and this will be evaluated on a case by case basis. Customers with questions about their individual coverage and travel plans should contact us directly at 1-866-606-3362."
Depending on their personal circumstances, MEDOC subscribers may be eligible for reimbursement of expenses incurred in returning to Canada as a result of the travel advisory; they may also be eligible for reimbursement of pre-paid expenses that they paid before leaving Canada. Members should contact Johnson or their travel assistance provider Global Excel Management (GEM) to determine what expenses will be reimbursed, but like all other insurers and other companies in the travel/hospitality industry, Johnson is experiencing extremely high call volumes, so it may be difficult to speak to someone.
Federal Retirees understands that some of our members reside in recreational vehicles or trailers year-round and that campsites in Canada may not yet be open or able to receive Canadians returning home. We understand the inconvenience of this unprecedented event and will be pressing the government to provide appropriate assistance to people who find themselves in this situation.
Please monitor the coronavirus information page from Johnson Insurance on a regular basis for the latest updates.