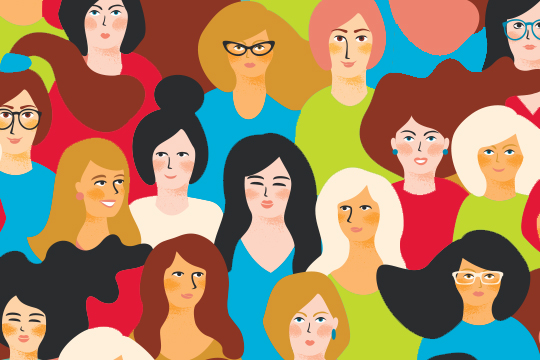 International Women's Day is celebrated on March 8 every year.
Today, March 8, is International Women's Day and, while recognizing the profound achievements of outstanding women is appropriate throughout the year, this day affords us all an opportunity to reflect on the importance of empowering women and celebrating their social, cultural and political accomplishments. The campaign theme for 2019 is "balance for better", placing the focus on promoting a balanced world by raising awareness of bias and taking action for equality.
 
There couldn't be a better time than this important day, with its theme of gender balance, to talk about Federal Retirees' hardworking board of directors and, in particular, the dedicated women who serve on it, advancing the Association and fighting passionately for retirement security, veterans' rights and health-care policy for older Canadians.

The national board of directors includes 12 district directors, four of whom are women – Megan Williams, Linda MacDonald, Cynthia Foreman and Hélène Nadeau.

Photo of Federal Retirees' board of directors taken at the 2018 Annual Meeting of Members (from left, Hélène Nadeau, Daniel Brunet, Megan Williams, Simon Coakeley, Jean-Guy Soulière, Rick Brick, Roy Goodall, Léonard LeBlanc, Cynthia Foreman, James Nicholson, Linda MacDonald, Brian Strongman, Jacques Lambert, Ted Young)

In advance of the winter 2018 issue of Sage magazine, Foreman spoke about her experiences volunteering with the Association as well as her career in the public service, which spanned nearly 35 years, and included negotiating terms for new parks in the Arctic, such as Northern Banks Island in the Northwest Territories, now called Aulavik. She was quick to say how much she misses that work, especially the variety, and reminisced about her position as the first female historic site superintendent at Fisgard/Fort Rodd in British Columbia. She recalled a particularly demanding day, which saw her rolling up her sleeves and cleaning toilets due to an absent cleaner and then promptly readying herself for tea with the Admiral at the Esquimalt Naval Base to talk about potential partnerships.

Foreman calls her time serving on the board of directors "fascinating" and feels strongly about her decision to take a leadership role. "Retirement security and ensuring a healthy future for seniors are key issues that not enough people are paying attention to," she affirmed.

In honour of Women's Day, MacDonald was eager to discuss her position on the board and her decision to become a board member. MacDonald joined our board of directors in 2016 after a 30-year career with Canadian Forest Services where she worked as an analytical chemistry technician and for the last 10 years, study leader for mass spectrometry applications. It was through her government experience, as well as her role as a local representative with the Public Service Alliance of Canada (PSAC), that MacDonald says she "learned the power of advocacy" for herself and others. 

This passion for advocacy led her to join the Association 15 years ago and to begin volunteering shortly thereafter. "I did so because I believed it was the only organization in a position to truly represent and advocate for me as a retired federal public employee, to protect my pension and benefits", she said. "I still believe that, probably more strongly than ever."

In a recent study of the ways in which women enhance corporate governance, Alison Konrad, a professor with the Ivey Business School at the University of Western Ontario, found that "the magic seems to occur when three or more women serve on a board together." And, while we couldn't be prouder of the four women currently serving on our national board, it is our goal as an organization to increase that "magic" factor and encourage more women to apply.

We believe becoming a board member with the Association and participating in the important decisions that drive it forward can be life-changing. In the words of MacDonald, while her decision to become a national board member has led to a commitment of time and energy that can sometimes be challenging, "the last three years have been one of the most positive experiences of my life." When it comes to empowering women to take on leadership roles, MacDonald added, "if you want things to change, be part of the change. Put yourself out there."

On behalf of Federal Retirees, thank you, Linda MacDonald, Cynthia Foreman, Megan Williams and Hélène Nadeau, for contributing your expertise and experience in a way that benefits our members and guides our Association into the future.

Happy Women's Day from the National Association of Federal Retirees!

If you're interested in joining our board of directors and lending your voice to speak for security of retirement for our members and all Canadians, please email elections@federalretirees.ca to contact the nominating committee prior to the March 15 deadline.