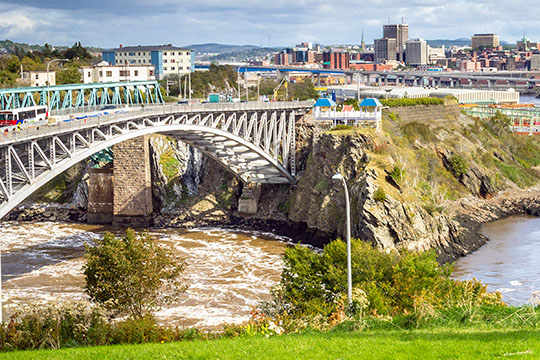 In this third installment of our "Rounding up budgets" series, budget season continues with the government of New Brunswick releasing its fiscal plan in early March 2020. This is an important budget given the challenges New Brunswick's health-care system has faced over the past few years, including 27 service interruptions in the last 16 months that meant people could not get the critical surgeries and services they needed as well as the Tory government's recently cancelled health reforms.  Read on to learn more about New Brunswick's budget and how it relates to Federal Retirees' priorities.
New Brunswick
On March 10, 2020, New Brunswick's Progressive Conservatives introduced their much-anticipated 2020-2021 budget. Since the opposition Liberals vowed to vote against the budget before even seeing it, the Tories are relying on the remaining parties to support the budget and get it passed.
The budget outlines $10.2 billion in spending for the coming year, with a projected surplus of $92.4 million. It is the second consecutive balanced budget for this government. The province's debt will decrease by $129.3 million, reaching $13.7 billion by the end of the fiscal year. In his speech to the legislature, Finance Minister Ernie Steeves stated, "[w]e've turned our situation around in order to allow us today to protect our most vulnerable, our communities, help our businesses grow, and allow us to better protect our province against unexpected events."
The budget aims to put money back into the pockets of New Brunswickers in several ways, including through the promised reduction on the tax rate for non-occupied properties, which will be reduced by half over four years starting in 2021. The government will also reduce the commercial property tax rate by 8.25 per cent per year until 2024. Starting April 1, gas taxes are set to go down by 4.63 cents as part of New Brunswick's carbon plan. However, these measures depend on legislation being passed in the legislature before April 1. Steeves said this will mean nearly $100 million will be put back into the province's economy.
Spending on health care will total $2.9 billion, an increase of 3.9% over last year and the largest increase to the health care budget in a decade. In introducing the Tories' plan for health-care spending, Steeves said that "New Brunswick has reached a tipping point in the delivery of health-care services. […] We must act now to address these challenges. We need to be realistic. Health care costs continue to rise. Our challenges will not be met through increased expenditures alone. We must adopt new and innovative ways to ensure we provide the health services our citizens deserve."
Below, we outline the most significant components of the government's health-care plan, as set out in this year's budget.
 
Increasing the number of nursing professionals and rural physicians
Budget spending addresses access to health care in several ways, including by allocating $4.2 million for the strategic placement of 26 nurse practitioners in emergency departments and clinics around the province. Saint John, Moncton and Fredericton will see 18 of these nurses placed in clinics in their cities, which could take up to 18,000 New Brunswickers off the waiting list for a primary health-care provider. The government is also creating a Nurse Practitioner Training Incentive Program that will provide salary replacement and return of service elements, allowing registered nurses to continue their studies and help the province meet its growing need for nurse practitioners. Return of service programs generally help fund post-graduate training opportunities in exchange for a commitment to provide a period of full-time service in an eligible community in the province.
Over the next four years, $3.5 million will go toward attracting more professional nurses to the province through a newly developed nursing resource strategy. The government developed this strategy along with a steering committee that included the departments of Health, Post-Secondary Education, Training and Labour and Social Development; nurses' associations and unions; health authorities and some of the province's universities. The strategy comprises 21 actions items, such as recruiting internationally-educated nurses, creating an assessment program for internationally and Canadian-educated nurses in New Brunswick, creating a process to offer permanent employment (full-time and part-time) to New Brunswick graduates and registered nurses recruited from other provinces or countries and developing promotional packages to attract students to New Brunswick universities and registered nurses to New Brunswick's workforce.
The budget also includes a $5 million rural incentive program to attract doctors to the province's rural areas.
 
Increasing the scope of practice of pharmacists
The Progressive Conservatives announced the scope of practice for pharmacists will be expanded, so that people can access the health care they need without having to make unnecessary trips to the doctor. Pharmacists will be able to diagnose and treat uncomplicated cases of urinary tract infection and refill certain prescriptions.
 
Improving ambulance services
Certified advanced care paramedics will be allowed to practice their full scope to improve response capabilities across New Brunswick. The Tories are also expanding the province's ambulance vehicle fleet by introducing new dedicated multi-patient transport units and a new class of bariatric vehicles. The government noted that these changes will ensure everyone in the province has access to timely emergency services.
 
Improving hospital services and surgical wait times
The government announced the opening of a new surgical suite at Dr. Georges-L.-Dumont University Hospital Centre, which will see the number of operating rooms increase and wait times across all specialty areas reduced.
The budget also addresses wait times for knee and hip surgeries, which are double the national average at more than one year. The creation of an operating room at St. Joseph's Hospital in Saint John coupled with an increase in capacity across other sites will allow for more orthopedic surgeries to be carried out. This will help reduce the number of patients waiting more than one year for surgeries and steer the province toward meeting national clinical benchmarks.
Funding to move alternate level of care (ALC) patients out of hospitals and into more appropriate care settings was also announced, with $5 million going toward increasing medical oversight in special care homes, the conversion of some assisted-living rooms to nursing beds and higher per diem rates so that special care homes can carry out renovations that would allow them to accommodate people with dementia or physical care needs.
Funding for oncology drugs and chimeric antigen receptor T-cell (CAR T-cell) therapies to more effectively treat cancer will receive an additional $6.2 million. CAR T-cell therapies are immunotherapies that use specially altered T cells, which are a part of the immune system, to fight cancer. Changes are also coming to the Breast Cancer Screening Program, with individuals participating in the program set to receive breast density information directly, along with the results of their screening mammograms.
 
Expanding vaccination programs and introducing an immunization registry
The government will be expanding the provincial vaccination program, injecting an additional $1.5 million to the program to ensure all New Brunswickers have access to free flu shots. Work on the immunization registry, Phase 2 of the province's three-phase electronic immunization record project, was halted last year but will now move forward. The immunization registry will allow the electronic tracking of New Brunswick's vaccine inventory, including where vaccines are in the province and how many have been administered to New Brunswickers.
 
More funding for mental health and addictions
On the mental health front, the budget sets aside $5.5 million for mental health programs in social development, health care and education. $3 million of this money will the spent to improve access to mental health services across New Brunswick. Another $1.4 million will go toward ensuring schools are able to address the mental health needs of students. The final $1.1 million will help fund various addiction centres and services, increasing access to addiction and treatment programs.
 
Increases to social assistance rates
Social assistance rates have not seen an increase since 2014, while the single employable client rate (or rate for a single person) has not increased since 2010. The budget allocates $5.4 million for what equates to a 5% increase to social assistance rates under three rate programs: the Transitional Assistance Program, the Transitional Assistance Program – Single Employable, and the Extended Benefit Program. In 2021, these rates will be indexed to the Consumer Price Index, meaning they will increase with inflation. Approximately 15,000 people who benefit from these programs, roughly two-thirds of all recipients, will see increases effective May 1.
 
Opposition reaction
The budget received a mixed reaction from the opposition. Liberal leader Kevin Vickers came out in strong opposition of the budget, saying that the Higgs government cannot be trusted. "Just a few weeks ago, the health-care system was in such shape that it needed cuts – and here they are today announcing a 3.9 per cent increase to the budget. How do you trust this?" Vickers stated after the budget was release.
People's Alliance leader Kris Austin seemed mostly in favour of the budget, saying that "at the end of the day, I think it's going to be a hard budget to vote against." Green leader David Coon said he likes some of the measures in the budget but thinks they do not go far enough.
While the budget vote was set to happen on March 20, all four party leaders agreed to conduct the vote on March 13, three days after the budget was tabled. The budget passed by a vote of 24-0. The Progressive Conservatives, the three members of the People's Alliance and Green leader David Coon all voted to support the budget. The opposition Liberals, who had vowed to try to topple the government, along with the remaining two Greens and the lone Independent abstained.