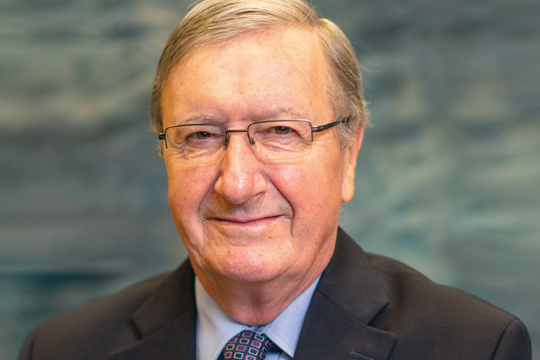 Jean-Guy Soulière, president of the National Association of Federal Retirees, has a National Public Service Week message for active employees — add your voice and join us!
 
National Public Service Week 2022 is coming up soon — from June 12 to 18! In this message to federal employees, Association president Jean-Guy Soulière discusses his career, offers his heartfelt thanks on behalf of the Federal Retirees community and invites all active public servants to strengthen the Association by joining. After all, you don't have to be retired to become a member of Federal Retirees!
 
Transcript
Hello! My name is Jean-Guy Soulière and I'm president of the National Association of Federal Retirees (or Federal Retirees for short).
Our Association is the largest national advocacy organization representing active and retired members of the federal public service, Canadian Armed Forces, Royal Canadian Mounted Police (RCMP) and retired federally appointed judges, as well as their partners and survivors.
To begin, allow me to wish you a happy and healthy National Public Service Week on behalf of the staff, volunteers and members of the Association. As federal retirees, we are proud of our accomplishments and our service to Canadians, but we also take pride in the ingenuity and innovation of our newest generation. (And, in case you didn't know, you don't actually have to be retired to join Federal Retirees. Active public servants are welcome and encouraged to join.)
The ongoing public health crisis has reminded Canadians that their government matters. Millions are seeking emergency support and guidance, shining a light on the strength and agility of our public service. Over the course of the pandemic, Federal Retirees has run campaigns, posted ads and published articles praising not only our outstanding front-line workers but also what I like to call our second front-line — the public servants like yourselves working behind the scenes to help Canadians make it through this difficult time.
Before I was a federal retiree, I was also a federal employee! I enjoyed a 30-year career with the public service, working as a director in several departments, including Consumer and Corporate Affairs, National Revenue Taxation, National Defence, the Public Service Commission and Labour Canada. 
In every department I encountered, I was consistently impressed with the dedication, passion and skill of my colleagues, so, when I "retired" in 1994, I was eager to give back to the community that had given me so much. I took on the role of executive director of the National Association of Federal Retirees, (then called the Federal Superannuates National Association), which I held for 13 years. After that, I really couldn't stay away! I returned to the national board as a volunteer — first as vice-president and then as president.
My tenure as president will be coming to an end later this month, making way for a new voice to lead the Association. Having served Federal Retirees for close to 30 years, I can say this with certainty — I believe in it, and I am proud to be a part of it.
Federal Retirees will be celebrating its 60th anniversary next year. I know there is strength in numbers and that's why I hope you'll join me (and close to 170,000 others) in becoming a member. Your membership supports our work to protect the hard-earned pensions and benefits of current and former public servants, and to advocate for good public policy that will improve the lives of all Canadians in retirement. You'll also have exclusive access to MEDOC, the most comprehensive and least expensive travel insurance available.
From one generation to another, I thank you for your service to Canada and we stand ready to welcome you anytime to the Federal Retirees community. Happy National Public Service Week!