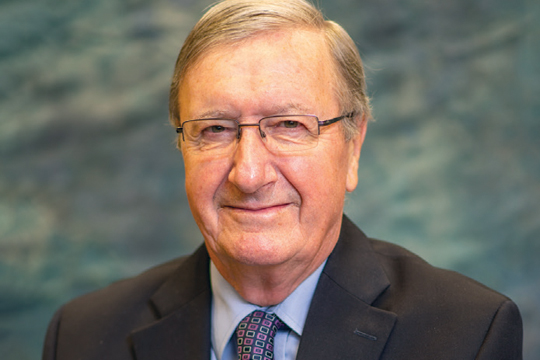 In the latest issue of Sage magazine, members will find a letter from our national president, Jean-Guy Soulière.
 
Well, this is it. After this issue, this page of Sage will be written by another person.
One of the highlights of the last six years has been writing my message to all our members every three months.
I have shared my perspective about issues that have faced the Association and the challenges that we had to deal with, including keeping the Association vibrant and active during the past 30 months of uncertainty resulting from the pandemic.
By the time the Association celebrates its 60th anniversary in 2023, I will have been with the Association for 30 years, half of its history, first as its executive director for 14 years, then on the board of directors, culminating in my election as national president in 2016. I've been around and I understand the issues.
It's been a great experience, first as an employee, then as a volunteer.
I've always considered retirement a new career. I have, on a number of occasions in my messages to you in Sage, encouraged you to volunteer, to "pay back" to our great society.
The rewards of being a volunteer are numerous, but the most important one is that by volunteering, in any capacity, one remains active, and, if you're like me, you keep using the skills and knowledge you have gained. But enough preaching.
My parting words as president are: One, thank you, and two, keep the Association moving forward. Thanks to all of you who read my messages in Sage and who encouraged me; thanks for the opportunity to continue using my skills; thanks for a supportive board of directors that worked by always arriving at a consensus on sometimes very difficult issues; thanks to the excellent and committed staff we have at the national office who always are ready to go the extra mile to get things done; thanks to the communications staff and our Sage editor, Jennifer Campbell, who makes Sage such a great publication; but most of all, thank you Federal Retirees for being such an important organization in Canada and for never forgetting our primary mission of protecting our benefits and advocating for a safe and healthy life for all older Canadians. You have influence and you are making a difference.
If there has been a common thread to all my messages, it is to build on our foundation and move forward. We have a very progressive five-year strategic plan, which is a "living document" that can adapt to changing circumstances.
I encourage you to insist that this continues as work on our next five-year strategic plan begins.
Looking back, there are many funny anecdotes that I lived as the executive director and as a member of the board of directors, so, maybe I will share some of them with you in Sage one day.
In my report for this year's Annual Meeting of Members, I talk about the factors that make our association such a solid and influential one, and I talk about how we can build on these factors towards NAFR 2030.
I will continue contributing in any way you and the board of directors will ask me. Being a volunteer, especially with such a great organization, is fun and rewarding. Au revoir!