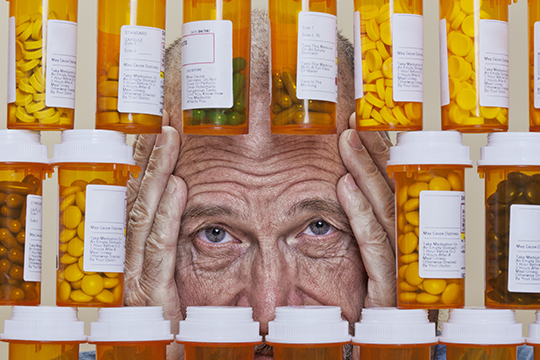 It's difficult to argue the system is protecting and promoting health when medication isn't part of what's covered.
 
Out of all the Organization for Economic Co-operation and Development (OECD) countries, Canada's the only one with a universal, single-payer health system that does not also have a universal insurance program for prescription drug coverage. Canada's fragmented drug coverage, availability and procurement systems also mean Canadians spend more on drugs per capita than any other OECD country with Medicare.
Drug coverage is available while in a hospital setting, but once out of the hospital, it stops there — unless you have drug coverage through a private or employer plan, or as part of a provincial plan. According to the Angus Reid Institution, in 2015, 20 per cent of Canadians reported paying out of pocket for most of their prescriptions because they are uninsured or underinsured.
It could be argued that not providing coverage to allow equitable, universal access to medication goes against the primary objective of Canada's health-care policy as stated in the Canada Health Act:
"It is hereby declared that the primary objective of Canadian health-care policy  is to protect, promote and restore the physical and mental well-being of residents of Canada and to facilitate reasonable access to health services without financial or other barriers."
It's difficult to argue that a system is protecting, promoting and restoring the physical and mental well-being of the population if medication isn't part of what's covered. Without going down the rabbit hole of explaining why dental care, vision care, physiotherapy and mental-health care were also left out of our public health system, let's take a look at how Canada ended up here. 
Since the early 1970s, Canadians in every jurisdiction have had access to public health insurance for physician services and hospital care. In short, the federal Canada Health Act guarantees the access and provides cash transfers from federal to provincial coffers. Provinces manage and provide the services and manage the funds as they see fit, while respecting the standards defined by the federal act.
The federal government provides drug coverage for a small portion of the population considered federal patients, namely, eligible refugees, federal prisoners, military members, veterans and Indigenous people. Provinces vary in how drugs are covered for different population groups, with a variety of premiums, deductibles and co-insurance scenarios. Most provinces cover prescription drugs (often with premiums and deductibles) for very low- income people, young children, seniors, people with chronic diseases or high-cost prescriptions, but overall, drug coverage is an inconsistent, poorly planned patchwork full of holes, depending on what your postal code is.
A number of commissions, committees and researchers have recommended pharmacare for decades. The 1964 Royal Commission on Health Services (the Hall Commission), which provided the blueprint for our nationwide health insurance, was also recommending the creation of parallel drug insurance.
Years later, in 1997, the National Forum on Health, chaired by then-prime minister Jean Chrétien, recommended that provinces and the federal government work together to establish universal public coverage of prescription drugs, based on comparative cost-effectiveness data. 
Five years later in 2002, the Royal Commission on the Future of Health Care in Canada (the Romanow Commission) also recommended laying the groundwork for the full integration of prescription drugs under the Canada Health Act by implementing a series of policies. Fast forward to 2019 and the Hoskins report on the implementation of national pharmacare recommended establishing a universal, single-payer public pharmacare system, phased in from 2022 to 2027. And in 2021, private member's bill C-213, the Canada Pharmacare Act was proposed. It provided the framework to implement the Hoskins recommendations, but was defeated in the Commons by 295 votes to 32.
It's not just experts and commissions who are in agreement. According to various polls in recent years, 80 to 90 per cent of Canadians support pharmacare, or at least believe no one in Canada should struggle to pay for medication.
If experts, commissions, periodically some political parties (namely, the Liberals, the NDP and Greens), and most Canadians support the implementation of pharmacare, why isn't it already done?
The first and most obvious obstacle is domestic politics, or the usual tensions over policy jurisdiction between the federal and provincial governments. Although the Constitution does not assign or specifically mention health care, the tradition has been that provinces have jurisdiction over health-care services, regulation of health-care professionals, hospitals and clinics and long-term residential care, while the federal government's bargaining chip is financial power.
This means intergovernmental relations are key to bringing about systemic health-care change — and it's an area rife with politics focused on party goals. 
Provincial governments have used jurisdictional disagreements for political gain, potentially blocking or preventing the federal government from even trying to implement nationwide health policies. For example, in December 2020, Québec's Premier François Legault, chairman of the Council of Provinces and Territories, adamantly rejected any federal "interference" regarding the implementation of national standards tied to funding for long-term care. 
The Hall Commission, the National Forum on Health, the Romanow Commission and the Hoskins report were all launched under Liberal governments, but federal will and ideological alignment are only part of the equation. Provincial alignment and willingness to negotiate on federal-provincial jurisdiction are also crucial. At the time each of the reports mentioned was presented, the two biggest provinces, Ontario and Québec, were respectively under Progressive Conservative and Parti Québécois governments, neither of which would have been the strong ally the federal government needed, nor a usual suspect in relinquishing provincial authority.
According to interviews with senior government officials, another barrier to implementation was the early belief among the bureaucracy, not necessarily grounded in evidence, that pharmacare would become a perpetual money pit once implemented. Implementing such a complex policy without the support of government officials would indeed be a hard task to accomplish.
More Canadians have gained coverage from private or employer sponsored drug benefit plans over the decades, but that coverage is fragile. Benefits usually depend on full-time, permanent employment — increasingly rare for younger generations, and affordability of benefit plans as drug prices escalate is becoming a bigger concern.
While polls indicate the vast majority of Canadians support pharmacare, and it has appeared in party platforms come election time, it's never been a crucial election issue that's galvanized voters or moved the needle on election results. Something might be the right thing to do in principle, but if it doesn't help win elections, there's little political imperative to implement it.
Pharmacare has, over time, become more a question of principle than anything. Considering the latest failed attempt to put a framework in place to enable pharmacare with Bill C-213 (although by an opposition party), it seems that implementing a popular, well-supported values and principles-based policy is not part of Canada's political culture. Or at least, not yet — and not in one fell swoop.
In the fall 2020 Throne Speech and supplementary mandate letters, we saw a renewed commitment to moving ahead with parts of pharmacare. The ministers of health and of seniors were mandated to work with "provinces and territories that are willing to move forward without delay, accelerate steps to achieve a national, universal pharmacare program, including establishing the Canada Drug Agency and implementing both a national formulary to keep drug prices low and a rare-disease strategy to help families save money on high-cost drugs."
Slowly laying the stones to build a national pharmacare program seems to be the current government's approach. Pharmacare is no simple policy to develop and implement and a phased approach might actually make some gains on this file without compromising other priorities that are vote gainers. Whether it will all come together soon enough for what Canadians need today remains to be seen.
This article appeared in the summer 2021 issue of Sage magazine as part of our "Health Check" series, which addresses timely health questions and health-related policies with a focus on issues affecting older Canadians. While you're here, why not download the full issue and peruse our back issues too?