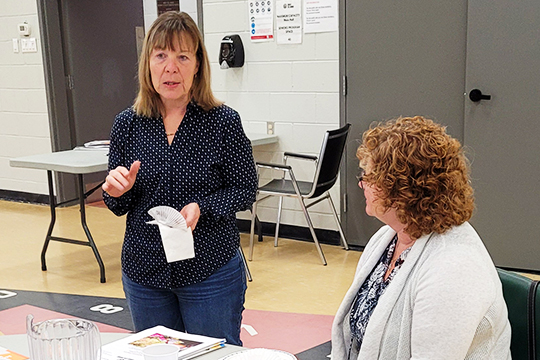 Michele McCleave-Kennedy, NDP candidate for Sault Ste. Marie, speaks with Federal Retirees Algoma branch members at their meet-the-candidates event in advance of the Ontario election.



 
The Federal Retirees Kitchener-Waterloo and District Branch, in partnership with the Canadian Federation of University Women KW (CFUW), the Council of Canadians — KW Chapter (COC), the Retired Teachers of Ontario (RTO) — District 11 and the Waterloo Region Health Coalition (WRHC) hosted a virtual all-candidates forum for the Waterloo region on May 10.
Watch the Kitchener-Waterloo Branch all-candidates forum.
During this forum, candidates from the Green, Liberal and NDP parties presented their party's overall strategy for senior care and long-term care and answered pre-submitted questions. Unfortunately, the Conservative candidate cancelled just prior to the event.
Topics discussed included long-term care homes and home care, recruitment and retention of care workers as well as standards and regulations in senior care settings.
 
The Huronia Branch partnered with CARP to host two all-candidates town halls on May 16.
Discussions focused on funding better home care, transforming long-term care and reducing wait times in hospital emergency departments.
During the first portion of the events, a moderator posed questions to all candidates. The second part of each session involved specific questions to each of the candidates, from the moderator, in a fireside format to get to know them better.
Candidates from the Green, Liberal and NDP parties attended. Unfortunately, the Conservative candidate cancelled just prior to the event.
Watch the recording of the Huronia branch event and check out the news coverage from Barrie Today.
This event was also recorded by CTV and the Rogers Cable Channel. Check local listings for air times.
 
The Algoma Branch invited local Ontario election candidates to attend their AGM on May 18.
This event provided an opportunity for branch members to meet their local candidates and discuss Federal Retirees' priorities with them. Despite several invitations to local candidates, the NDP was the only party to respond.
"Members of the Algoma Branch gathered for a meet-the-candidates event in the Sault Ste. Marie riding. Despite challenges reaching local candidates, the event was a success, and it was well received by our members. The desserts that we shared after were also very tasty," says Algoma branch president Chuck Davis.
 
In addition to these events, Ontario branches — and members — reached out to candidates across the province using a variety of tactics.
The Ottawa Branch, in partnership with the Council on Aging of Ottawa, invited candidates in all eight Ottawa provincial ridings to provide a five-minute video outlining their position and what their party will do for seniors. Candidates were asked to focus on senior health care, long-term care and home care, age-positive well-being and income security.
These informative videos can be viewed on the Ottawa branch website.
The Hamilton Branch sent letters to all candidates in their 10 ridings, using the template found in the Federal Retirees Ontario election toolkit.
In addition to the amazing work Federal Retirees branches have done to support the Association's Ontario election campaign, members in the province have also sent over 1,000 letters to candidates and nearly 200 letters to the editors of their local newspapers!
Learn more about the Federal Retirees Ontario election campaign.

 
About Advocacy Spotlight
Advocacy Spotlight showcases successful initiatives and projects put forward by our dedicated volunteers and supporters.
The National Association of Federal Retirees has a proud history of advocacy on behalf of our members and all retirees. In collaboration with our volunteers and supporters from coast-to-coast, we continue this tradition of strong, smart advocacy campaigns focused on improvements to the financial security, health and well-being of our members and all Canadians.
Our success is not only measured in policy changes and legislation, it grows with every meaningful discussion with parliamentarians, and with every email and letter written. Together, we are achieving and surpassing our strategic advocacy goals and targets every day.