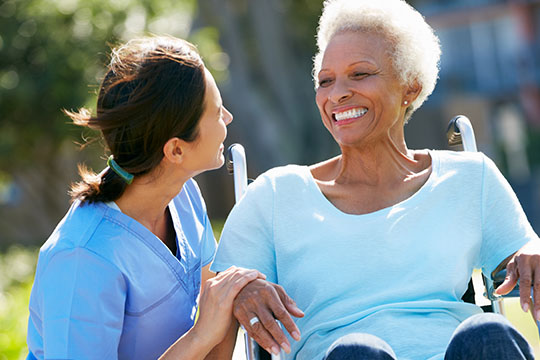 Home and community care services can improve health and reduce costs, yet governments often fail to recognize their importance.
 
The COVID-19 pandemic has brought into focus the deep-seated challenges facing older Canadians. We've witnessed policy gaps in health care — disproportionately in long-term care settings — in social and community supports and in retirement security.
The United Nations named 2021-2030 the Decade of Healthy Aging, recognizing that we are ill-prepared for the population's shifting demographic. Likewise, the federal government has an important role to play in setting a national vision, one that responds to the oft-voiced needs of older Canadians and addresses the challenges older adults experience, in a consistent, co-ordinated and sustainable way.
Federal Retirees has advocated for a national strategy for seniors for many years. It is long overdue.
Last year, the National Institute on Aging (NIA) launched an updated evidence-informed national seniors strategy, which listed the policy challenges under four pillars: Care closer to home; independent, productive and engaged citizens; healthy active lives; and support for caregivers.
 
Care closer to home
Tracking by the NIA shows more than 70 per cent of COVID-19-related deaths have occurred in long-term care. Funding and policy reforms should ensure residents receive high-quality, safe and consistent care.
Federal Retirees is gaining traction in advocating for concrete, measurable national standards in home and long-term care. The 2020 throne speech included a commitment to work with the provinces and territories to set new national standards.
Most Canadians want to age at home and in their communities. Home and community care can improve health and reduce costs, yet governments often fail to recognize its importance.
A basic lack of home care leaves many with unmet needs and can lead to costlier institutionalized care. The Canadian Institute for Health Information found one in nine new long-term care residents could have been cared for at home.
Integrated care and primary health services must respond to the country's aging demographic. This includes investments in long-term care, services as close to home as possible and access to geriatric care practitioners.
Health care for older adults at the right time, in the right place is central to a national seniors strategy. But healthy aging requires more.
 
Independent, productive and engaged
The impacts of ageism and social isolation, and the prevalence of elder abuse, were undeniable before the pandemic. They're more prominent now and demand national attention. There's been some progress, but policies that value older adults will spark greater change.
The NIA's strategy recommends policies that empower community participation by older Canadians. These include addressing financial insecurity in retirement, improving access to affordable housing and inclusive transportation and designing age-friendly environments.
 
Healthy and active lives
Thanks to medical advances, Canadians are living longer, many with fewer health problems or with the ability to better manage chronic conditions. Paying attention to health promotion and education, giving access to medically necessary medications and vaccines and empowering Canadians to contribute to health-care decisions will help maintain and expand the advances.
 
Support caregivers
In a September 2020 survey, Federal Retirees found that 17.5 per cent of members who responded told us they have had personal experience with caregiving during the pandemic. COVID-19 has shown us again the significance of unpaid caregivers and how crucial they are to health and well-being and our health-care system.
When asked about the impacts of caregiving, respondents noted its effects on other aspects of life, the amount of time dedicated to it, psychological or mental health effects, as well as the availability of support to help navigate care systems and the associated costs. All had a significant impact.
It is estimated that unpaid caregivers provided $9 billion in care in 2019 to Canada's publicly funded health-care systems. This will likely rise to $27 billion by 2050. Caregivers should have better access to community and financial support, such as respite and tax credits, to assist in this essential role.
 
What's next
Piecemeal approaches have not brought the social shift required for Canadians to age well. We need national standards for home and long-term care urgently. Age-inclusive policy reforms must follow.
A national seniors strategy remains a priority of Federal Retirees. It's time for the federal government to lead our country to re-envision aging and implement one.
Visit www.federalretirees.ca/en/advocacy/long-term-and-home-care for more on these campaigns.
This article appeared in the spring 2021 issue of Sage magazine as part of our "Health Check" series, which addresses timely health questions and health-related policies with a focus on issues affecting older Canadians. While you're here, why not download the full issue and peruse our back issues too?