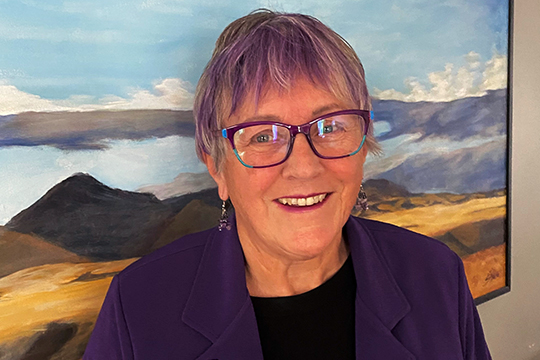 Maria Fitzpatrick, a dedicated volunteer with Federal Retirees' Southern Alberta Branch, is now taking on the exciting role of advocacy program officer.
 
Maria Fitzpatrick, with the Southern Alberta branch, is the Association's newest advocacy program officer and is looking forward to supporting advocacy initiatives in Alberta!
Fitzpatrick was born and raised in St. John's, Newfoundland and attended Memorial University of Newfoundland and St. Xavier University in Antigonish, Nova Scotia. As a physical education and education major, Fitzpatrick was very involved in sports during her university years, particularly track and field where she excelled at the 100 and 200 metre races. She set Newfoundland records in these two events at the first Canada Summer Games in 1969 — and to date, those records still stand! As a result of those accomplishments, she was honoured to become the first St. John's Female Athlete of the Year in 1969.
Fitzpatrick worked for the federal government for over 32 years. Starting with Transport Canada in 1982, she quickly moved to the Correctional Service of Canada, and spent over 32 years there as a parole officer, policy analyst and member of the project management team.
An activist at heart, Fitzpatrick was president of her local Public Service Alliance of Canada (PSAC) union branches in both Edmonton and Ottawa for more than a decade. She was elected as the regional executive vice president for the National Capital Region from 2008 to 2011. During that time, she held positions with the Ontario Federation of Labour and the Ottawa Centraide United Way board of directors.
When she returned to Alberta in late 2012, Fitzpatrick immediately took an interest in the provincial government and its policies related to women, seniors, health care and education. She joined the Southern Alberta Branch of the National Association of Federal Retirees (called the Federal Superannuates National Association at the time), and helped to initiate a Lethbridge Regional Women's Committee. In 2014, she retired from the federal public service.
Fitzpatrick continues to reside in Alberta. She is a mother, grandmother and great-grandmother. In retirement, she enjoys staying active both physically and mentally. She golfs regularly, paddles with her dragon boat team and participates in regular fitness activities. To keep her mind sharp, she is an active volunteer and choir member with her church, and she is a member of the Fundraising Committee with L'Arche Lethbridge. Fitzpatrick also spends her time advocating, with a particular interest in domestic violence issues and has spoken publicly in the Alberta Legislature and nationally about her own experience.
Maria Fitzpatrick has been and will continue to be a powerful force for advocacy in Alberta. We're looking forward to her energy and commitment to making a difference!
About Advocacy Spotlight
Advocacy Spotlight showcases successful initiatives and projects put forward by our dedicated volunteers and supporters.
The National Association of Federal Retirees has a proud history of advocacy on behalf of our members and all retirees. In collaboration with our volunteers and supporters from coast-to-coast, we continue this tradition of strong, smart advocacy campaigns focused on improvements to the financial security, health and well-being of our members and all Canadians.
Our success is not only measured in policy changes and legislation, it grows with every meaningful discussion with parliamentarians, and with every email and letter written. Together, we are achieving and surpassing our strategic advocacy goals and targets every day.