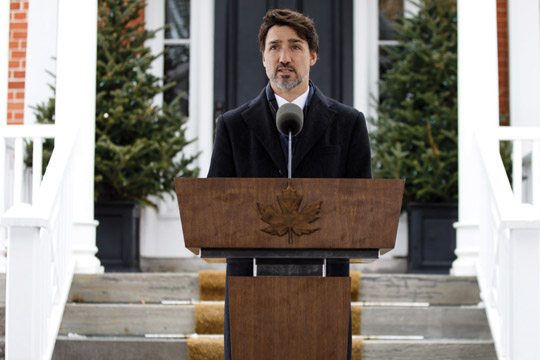 The coronavirus pandemic has disrupted routines and expectations, and complicated even the simplest activities, but it hasn't shifted our focus on your priorities. From retirement income security and a national seniors strategy to pharmacare and veterans' well-being, the COVID-19 pandemic has highlighted the importance of our four advocacy priorities and the gaps in health and seniors' care.
"Initially, our priority was to help our volunteers and members understand the immediate impacts on their health and benefits, and to help members who were travelling navigate their travel insurance," Association CEO Simon Coakeley says. "We have been in close contact with government since COVID-19 hit. Practising sensible social distancing, we met virtually with Seniors Minister Deb Schulte and discussed our members' most pressing needs — and we've stayed in contact throughout the pandemic as impacts and needs evolve."
Initially, members were worried about updated pharmacy-dispensing guidelines that led to increased out-of-pocket expenses and whether pensioners with employment income impacted by COVID-19 are eligible to receive the Canada Emergency Response Benefit (CERB). They were concerned about the impact of the extended tax-filing deadline on eligibility for Old Age Security (OAS) and Guaranteed Income Supplement (GIS) and federal measures to protect retirees already taking losses on RRSP and RRIF investments.
Association president Jean-Guy Soulière, who is also the pensioner representative for the Public Service Health Care Plan (PSHCP), has been working closely with PSHCP partners to ensure plan members have health benefits to support them throughout this challenge.
And, like the rest of Canadians, we became aware of the devastating situation in Canada's long-term care facilities through media reports.
"COVID-19 has exposed gaping holes in health and senior-care services," Soulière says. "If we had national frameworks, sound resource-planning and financing, the scope of the tragedies that have unfolded in long-term care settings could have looked much different. We can't afford to wait for something like this to happen again."
Our first weeks and months into the pandemic were focused on navigating immediate changes — but we're also focused on the long-term impacts expected from COVID-19. While this pandemic isn't exactly unprecedented, the economic and social context in which it's unfolding makes it a situation with many uncertainties.
"Our members' health and dental benefits may be impacted, but it's too early to tell right now how plans will have to adapt to ensure plan members get the supports they need and indeed pay for," Soulière notes.
On the pension side, we should all be prepared for the post-pandemic economic landscape. Some employers and pension plans will fold and many will see their personal savings dive. Governments have taken on steep economic commitments that will lead to budgetary deficits.
We can expect "pension envy" as many Canadians lose their jobs, potentially lose their pensions and take serious hits to other savings. There will be pressure on governments to save money and federal public sector pension plans may again become a target for cuts. It will be important to remain vigilant, remember that pensions are built to last and know there will be bad years as well as good. Retirement income security isn't about a race to the bottom, but something all Canadians deserve.
 
Adapting Reach 338 to 'the new normal'
In our last issue, you read about Reach 338 — our plan for advocacy networks in each riding to ensure our issues and priorities are heard by every sitting member of Parliament. Federal Retirees members have stepped up and Reach 338 is growing.
With social-distancing rules in effect (at press time) and expected to continue for the foreseeable future, and some key federal departments mobilized around Canada's COVID-19 response, outreach to MPs has been reduced. But we're adapting how we take on advocacy and we still want our members to be part of it.
What does social-distancing advocacy look like? It's a group of people assembled — on a computer screen or conference calls.
As our members receive this issue of Sage, Soulière and Coakeley are Zooming into a series of virtual lobby days, connecting with parliamentarians virtually to push your priorities and calls for policy change to ensure our members and older Canadians recover from the impacts of COVID-19. Over the coming months, we'll be introducing our Reach 338 network to tools to continue to make a lasting impact on our members' retirement income and health-care security, and on public policy for older Canadians.
This article appeared in the summer 2020 issue of Sage magazine as part of our "Advocacy in Action" series, which tackles current advocacy issues and answers questions we receive from members. While you're here, why not download the full issue and peruse our back issues too?