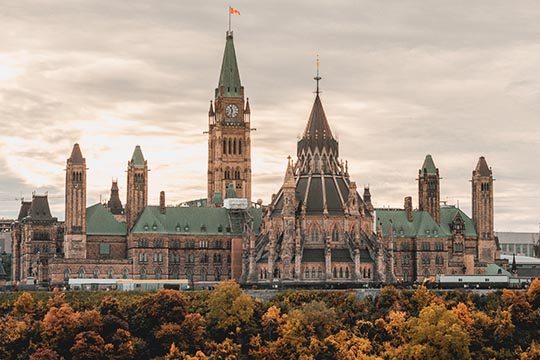 With its fall fiscal update, the federal government plans a record-high deficit to kick-start the Canadian economy.
 
The biggest headline for Canadians from Monday's long-awaited fall economic statement is that Canada is planning another $100 billion of pandemic stimulus over the next three years to add to our current emergency spending total of $381 billion.
Deputy Prime Minister and Minister of Finance Chrystia Freeland said that the government's fiscal plan is meant "to bring our economy roaring back, once this pandemic is beaten."
Freeland's plan includes the government spending between three to four per cent of Canada's GDP over the next three or four years as stimulus to give the economy the chance to recover. While the deficit will balloon in 2020-21, the projected deficit shows a gradually shrinking deficit by 2025-26. She said they're trying to avoid long-term fiscal damage from COVID-19, hopefully creating a million jobs to return the economy to pre-pandemic levels. She referred to this as a "down payment on the future."
Freeland said that her government will not make the same mistakes previous governments made after the 2008 recession, such as when then-prime minister Stephen Harper cut federal spending across the board with the deficit reduction action plan by five to 10 per cent –  austerity measures that limited stimulus spending too quickly, and hurt economic growth.
Federal debt servicing costs in comparison to our economy remain at a 100-year low, she added. The government feels safe issuing more debt at these historically low rates.
"This is a feminist agenda and I say that proudly," Freeland said before announcing new targeted spending to help women and vulnerable sections of the population.
People of colour, Indigenous people, immigrants and women are most likely to be the worst affected by the pandemic, she noted. Freeland announced that they are laying the foundations for a nation-wide early learning and child-care system, using a Quebec model.
The government will attempt to reduce student debt by eliminating interest on federal student loans for both schools and apprenticeships for 2021 and 2022.
 
Seniors, on the other hand, were barely mentioned in the speech. Freeland spoke of the health threat COVID-19 presents to older Canadians, praised the work done by Canadian Armed Forces deployed into long-term care facilities, and noted that seniors received a special Old Age Security top-up of $300 in the spring. The economic update document, on the other hand, acknowledges the disproportionate impact COVID-19 has had on older adults in Canada.
Freeland announced a $1 billion Safe Long-Term Care Fund to help provinces and territories safely manage their facilities during the pandemic. The detailed economic plan notes that funding will be tied to detailed spending plans and allocated on an equitable per capita basis. In other words, provinces and territories will have to demonstrate that investments have been made according to the spending plans they have outlined. Activities may include infection prevention and control, ventilation improvements and staffing measures such as additional hires or topping up wages.
A further $6.4 million over two years will help the Canadian Foundation for Health Improvement expand its LTC+ initiative, and $1 million will be tagged to help identify resources to conduct readiness assessments in long-term care facilities and focus on training on infection prevention and control. Finally, $2.4 million over three years will expand Health Canada's capacity to support new LTC initiatives and tackle new policy work.
The detailed economic update reiterated government's throne speech commitment to work toward national standards for long-term care – but stopped short of outlining a roadmap to help Canada navigate this jurisdictional minefield. General solutions that might be explored, the government says, could include measures to improve retention and recruitment of skilled care workers to address the labour shortage in long-term and home care. Those solutions could include better retirement savings options for low- and modest-income workers, particularly those without workplace pension coverage.
"Measures to ensure funding under the Safe Long Term Care Fund will be spent on activities that will make a difference in long-term care settings is a positive development – we've been calling for better coordination and accountability and we're pleased to see the government listening," said National Association of Federal Retirees president Jean-Guy Soulière. "How we emerge from this pandemic and the crisis it has highlighted in long-term care will define us as a society. It's time for governments to get to the table and deal with this – we're past one-time special payments, we're past more promises. We need federal leadership, provincial and territorial collaboration, and political will and action to overhaul our collective vision of what long-term care should be in Canada – and we need it now."
Veterans Affairs Canada will see a boost of $600,000 to the Veterans Emergency Fund, which provides financial support to veterans whose well-being is at risk due to urgent, unexpected situations.
No mention of the previously promised national pharmacare plan was made. A formal budget is expected in the spring, where such a program could be used as an election plank by a fallen minority government.
 
Unsurprisingly, Freeland boasted of government successes made so far during the pandemic, of the more than two billion pieces of PPE the government has already procured, funds delivered to provinces for pandemic health care and procuring "a world-beating supply of vaccines including 449 million doses, more than 10 for every Canadian."
In terms of new pandemic health-care spending, it was announced that the government will make further investments in testing and tracing, personal protective equipment, and will spend $150 million to improve ventilation in public buildings to reduce the spread of COVID-19.
She spoke of the coming weeks and months being the most difficult of the pandemic.
"We must help each other get through the winter," she said.
In that vein, the Canada Emergency Wage Subsidy is returning to a maximum of 75 per cent for the period beginning December 20, 2020, until March 13, 2021.
The current rates of the Canada Emergency Rent Subsidy and Lockdown Support will also stay in place until March 13, 2021. Businesses will receive more mortgage support – up to 90 per cent of their rent covered, extended to June of 2021.
For sectors truly suffering during the pandemic, like tourism, hotels, arts and culture and the air sector, the new Highly Affected Sectors Credit Availability Program will offer eligible businesses loans of up to $1 million, with a 10-year term. The loans will come from banks and be backstopped by government.
New money was announced for families with children under the age of six that are entitled to the Canada Child Benefit. For them, a new temporary support of up to $1,200 in 2021 is offered.
In terms of climate change, Freeland announced a plan to plant two billion trees over the next 10 years. Previous promises of massive tree plantings have yet to be fulfilled. Home energy retrofits will be enabled with $2.6 billion over seven years allocated to Natural Resources Canada to help provide up to 700,000 grants of up to $5,000 to help homeowners make energy-efficiency home improvements.
Finally, Freeland said they will be adding GST and HST onto the services of multinational web giants like Netflix and Spotify selling into Canada and will move unilaterally on taxing them.
Liberal members gave her a loud round of applause for that. 
 
Opposition leaders were less enthusiastic but agreed on one thing – that the fiscal update does not present a comprehensive path forward for Canada.
Conservative leader Erin O'Toole said his party is "probably going to reject" the Liberal plan when its measures come to a vote, though welcomed measures like the increased Canada Child Benefit and funds for long-term care. NDP leader Jagmeet Singh gave the fiscal update a failing grade because it doesn't do enough on child care or pharmacare, or to make the wealthiest Canadians – including "pandemic profiteers" – pay their fair share.
Bloc House leader Alain Therrien questioned the vaccine plan and why there were no increases to provincial health transfers, while leader Yves-Francois Blanchet bluntly said the plan contains nothing for the most vulnerable – including older Canadians and the health-care sector. Green leader Annamie Paul challenged the government on the absence of a plan to convene with provinces and take concrete steps to reform long-term care.
Canadians shouldn't expect this to be the final version of this fiscal update and the government's spending plan. The plan – arguably the closest thing to a budget Canada has seen in nearly two years – needs to pass in the House of Commons first. Given where opposition parties stand, the Liberals will need to bend to amendments, or they could face a confidence motion.
And that would mean a winter election, with cases surging in many regions, and no COVID-19 vaccine yet in sight.