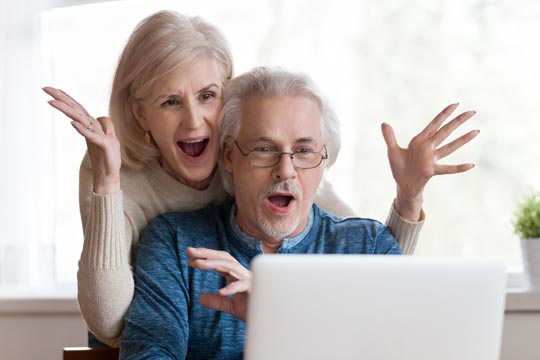 Federal Retirees' Mega Recruitment Drive contest is ending Dec. 31, so time is running out!
 
The 2020 Mega Recruitment Drive comes to a close on Dec. 31 but don't worry – you still have a chance to win.
The Mega Recruitment Drive is a contest that aims to recognize and reward the invaluable recruitment efforts of our dedicated members. Each new member you refer is a ballot for the contest and gives you a chance to win the grand prize or one of our amazing secondary prizes. For all the details, visit our How it works page or refer to the contest rules. Also, as our way of saying thank you, we will send you a $5 gift card for every successful referral you submit.
We interviewed our top recruiter from last year's contest – Joanne Morrissey of the Avalon-Burin Branch who recruited a whopping 28 new members – about the secret to her success. "I don't have a secret," she said with a smile. "I just called people I knew and asked them. Then I asked them if they had any friends that were ex-employees that they thought might want to join and I went from there."
So, there you have it! Anyone can be a top recruiter. Our greatest obstacle is awareness, so all you have to do is make a call and ask. As Morrissey said, "I think if a lot of people knew about it, they'd join."
Grand prize
$10,000 cash, courtesy of Johnson Home and Auto
Secondary prizes
Two Samsung tablets, courtesy of SimplyConnect
A trip worth $5,000, courtesy of Collette Tours
Five $100 pre-paid credit cards
Special cash prizes for top recruiter, most referrals and new members, courtesy of Arbor Memorial
To refer a new member (and secure your ballot), use our quick and easy online form. You can also ask the member you are referring to note your name and membership number when signing up or you can give us a call at 1-855-304-4700 (toll-free) and our member services team will help you over the phone.
There are no limits to the number of entries you can submit. The more people you refer, the more chances you'll have to win!
 
As a Federal Retirees member, you know how important it is to defend federal pensions and to fight to improve retirement security in Canada. But, if you know a prospective member who needs some convincing, be sure to share our top 10 reasons to join.
In addition to our top 10 list, here are three unique approaches to getting ballots that you may not have thought of yet.
Give a gift of membership
We now offer gifts of membership for eligible prospects. Each gift purchased automatically gets you a ballot for the Mega Recruitment Drive. Whether you know someone who is retiring soon, has just retired or who has been retired for some time but is still not a member, a Federal Retirees membership is the perfect gift this holiday season. If you purchase a double membership, that will get you two ballots for the draw. Visit our Gift of membership page for all the details or give us a call at 1-855-304-4700 (toll-free) to place your order.
Add your partner to your account
Recruit your partner – convert to a double membership for only $1.27 more per month and secure a ballot instantly! Partners can join whether they are retired or still working, and do not need to be eligible to collect a federal pension. To add your partner or spouse, give us a call at 1-855-304-4700 (toll-free).
Share our all-new recruitment brochure
Spread the word about the Association by emailing our new recruitment brochure to eligible individuals in your network. It's a safe and effective tool to introduce your friends to Federal Retirees and to help improve your chances of getting one or more ballots. To enter the contest, make sure your referrals state your name and membership number when signing up and are aware of our double-membership offer. Download your copy of the brochure now! 
We will draw for all prize winners in January 2021. Good luck and happy recruiting!