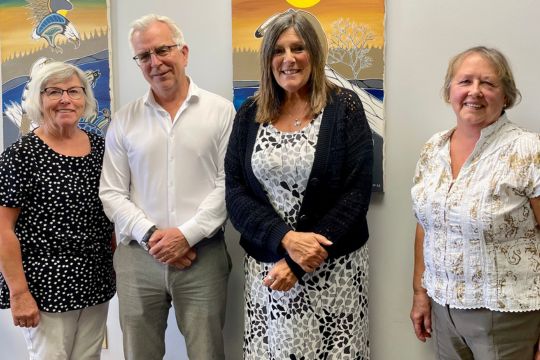 Thunder Bay and Area Branch volunteers organized a meeting with MP Marcus Powlowski to talk about the Association's advocacy work and the priorities of its members.
 
Thunder Bay and Area Branch president Lisa Lovis, past-president Wanda Young and branch advocacy liaison Judith Monteith-Farrell met with Marcus Powlowski, member of Parliament for Thunder Bay—Rainy River and his constituency assistant, Mike Burns, in July.
"The agenda we set was to do an overview of our organization and the scope of our membership in Northwestern Ontario and especially the riding," says Monteith-Farrell, explaining how the branch prepared for the meeting.
"We then provided the leave behind leaflet and explained our advocacy priorities emphasizing income security for seniors, health and long-term care and dignity in all aspects of life for seniors. We also highlighted some of the shortcomings in availability and quality of seniors' care, especially in this riding," continues Monteith-Farrell, explaining how the meeting was conducted.
"We asked to be considered for inclusion in any future visits from the minister of seniors, and also to be considered in discussions with stakeholders when senior's issues take place within the riding," says Monteith-Farrell, outlining how the branch plans to continue their advocacy work following this meeting.
This is the first Reach 338 meeting for the new Thunder Bay and Area Branch advocacy team.
Reach 338 is a nationwide network of advocates working to ensure that Federal Retirees' advocacy work reaches elected officials in all 338 Canadian ridings. To meet this ambitious goal, Reach 338 targets are shared within the network, offering guidance on MPs to contact and next steps to take.
Advocacy Spotlight showcases successful initiatives and projects put forward by our dedicated volunteers and supporters.
The National Association of Federal Retirees has a proud history of advocacy on behalf of our members and all retirees. In collaboration with our volunteers and supporters from coast-to-coast, we continue this tradition of strong, smart advocacy campaigns focused on improvements to the financial security, health and well-being of our members and all Canadians. Our success is not only measured in policy changes and legislation. It grows with every meaningful discussion with parliamentarians, and with every email and letter written. Together, we are achieving and surpassing our strategic advocacy goals and targets every day.