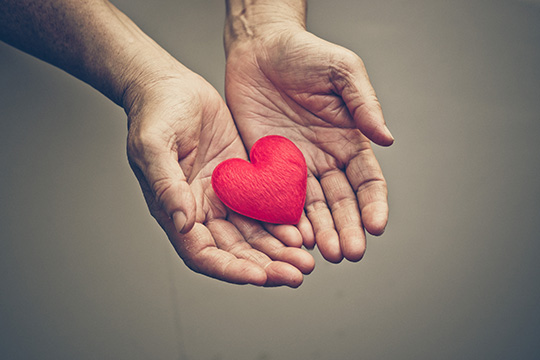 Palliative care affects Canadians of all ages, and while it is not only needed for the elderly, we know there are now more seniors than children in Canada. This demographic is changing the face of Canadian society and adding new policy needs at all levels of government.
The gaps in palliative care can and must be addressed urgently with national leadership and action.  Not only will patients and their families benefit, but it is an efficient use of healthcare dollars that can help support a more sustainable healthcare system.
Health Canada recently conducted an online consultation to inform a national framework for palliative care.
Federal Retirees created an online poll based on the consultation questions to learn more about retirees' experiences and thoughts about palliative care in Canada.
Over 2,100 people participated in the poll in French and English from across the country, the result of which informed our submission and recommendations.
Public Awareness and Education
Many Canadians are unfamiliar with the concept of palliative care, or unaware of the programs and services that may be available. Misconceptions and stigma persist and create barriers as many still attribute it with the last days of life and are reluctant to talk about it.
Only 30 per cent of Federal Retirees said they have an advance care plan, and 22 per cent of those with a plan were not confident that their wishes will be followed.
Many studies have also confirmed the positive impacts of advance care planning, such as improved quality of end-of-life care, person-centred care that is better aligned with a patient's goals and preferences as well as increased use of community care, including hospice and home care.
From our survey we learned that most people will turn to a health care professional for information about palliative care (34%), followed by their local health authority or network (29%), and their primary care provider (26%).  Only 22 per cent answered that they go online for information and resources.
Improving Access to Palliative Care
There are significant disparities across Canada with respect to access to palliative and end-of-life care, the quality of care provided and out-of-pocket costs for patients.
Among those who answered our poll, almost half said the lack of palliative care services and resources was the greatest obstacle preventing them from accessing palliative care.
Palliative care should be available to patients in a variety of settings, including the home, hospital, hospice, long-term care or other settings depending on what is most appropriate for a patient's care needs and preferences. 
Yet in Canada, there is a severe shortage of palliative care specialists. Thirty per cent of people who responded indicated the lack of specialists would prevent them from access palliative care.
Additionally, many primary care providers are uncomfortable or lack the training to provide this care.  
Canada is also facing a shortage of gerontologists. In Canada, there is one geriatrician for every 15,000 adults. This is unacceptable if our senior population is going to age with dignity and care.
Health service provider training is key and needed urgently. 
We know most people would prefer to die at home, but for patients to be able to stay at home, greater support is needed. This means community-based palliative care services, like home visits, as well as residential hospice must be more available, accessible and less costly.  
Over a quarter of respondents said that financial barriers would prevent them from accessing palliative care.
Caregiver Support
A national palliative care framework must include support for caregivers. Caregivers often experience their own physical and mental health distress in the caregiving role.  
Eighty per cent of members who completed our poll said that family is the first person they talk to about their end of life wishes.
According to our survey, knowing what to expect and how to prepare was the greatest challenge caregivers faced (58%). The second greatest challenge was home and community care support (48%) followed by respite services (45%). 
National Seniors Strategy and Minister for Seniors 
The federal government recently announced the appointment of a minister for seniors, Filomena Tassi, and Federal Retirees look forward to working with her in this role. Federal Retirees has long called for a minister for seniors to serve as dedicated voice advocating for their unique needs within government, and ensure public policy decisions, like a national framework for palliative care, are viewed through a seniors lens. 
A National Seniors Strategy and a palliative care framework are directly related as many similar factors would be addressed. A National Seniors Strategy encompasses social determinants of health, from health care, including palliative and end-of-life care, to housing, social interaction and predictable retirement income.
With approximately one year left in this government's mandate, it is time for a National Seniors Strategy. Send an email Minister Tassi to share your support for a National Seniors Strategy.
"These recommendations will help make palliative care more accessible for our members, said Jean-Guy Soulière, President of the National Association of Federal Retirees. "As we move closer towards the implementation of a national framework for palliative care, we will continue to advocate for our recommendations.
Recommendations:
A national framework will mitigate stigma and misconceptions, boost access to palliative and end-of-life services and address the unique needs of caregivers, by:  
 Working with provincial governments and non-government organizations to build awareness and understanding of palliative care services, so that people have the education, tools and support they need to engage in discussions about and access palliative care.

Working with care providers to ensure the public and health care providers discuss advance care planning early and often, and to encourage Canadians to have advance care plans in place.

Applying a multi-faceted, culturally competent approach to communications, education and promotion to reach diverse audiences of Canadians from coast-to-coast-to-coast.

Working with provincial governments and other actors to support human resources and training/development strategies. Goals should be measurable and continuously monitored/assessed.

Supporting development and expansion of innovative, community- and volunteer-based programs so that home-based options are more available, accessible and less-costly.

Investing federal health funds, with strings attached, to ensure provinces invest in hospice and palliative care infrastructure.

Working with provincial governments to build awareness and understanding of palliative care services and resources from the distinct perspective of caregivers. 

Ensuring caregiver resources for respite, grief and bereavement are included in provincial palliative care programs and services.

 Working with professional and volunteer organizations to encourage advance care planning conversations with health professionals to include supportive conversations with family and caregivers.

Making the Canada Caregiver Tax Credit refundable.