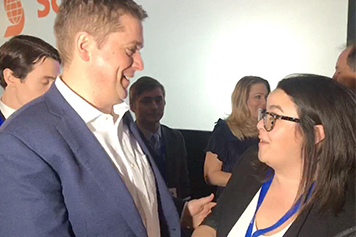 Advocacy coordinator Candace Jazvac asks Conservative Party leader Andrew Scheer about member priorities at the 2019 Manning Networking Conference.


 
On March 23, as part of the Manning Centre's annual networking conference, Conservative Party leader Andrew Scheer sat down with journalist Mercedes Stephenson to discuss a variety of issues and to take audience questions. The National Association of Federal Retirees' advocacy team was in attendance, and took the opportunity to ask Scheer about how he and his party plan to address issues of retirement security in the upcoming election.
Question and response have been minimally edited for clarity.
Question: Seniors are the fastest growing demographic in the country. You've mentioned addressing retirement security and faith in pension plans in the upcoming election. How do you propose to take on this issue?

Scheer: This is one of those [issues] that we are going to be very excited to unveil in the election campaign. It is a real anxiety. There are those who have pensions that worked their whole life expecting their pension plan to be there, and they've had the rug pulled out from under them. It's a real anxiety for people that don't have the ability to go back into the workplace and recuperate from that.

Cost of living hits seniors very hard. We've looked at the effects on seniors from the carbon tax. [The carbon tax] will disproportionally hurt those on fixed incomes with fixed costs, and without the ability to deal with those higher costs. So, we will have a couple of exciting proposals that you'll have to stay tuned for [in] the campaign – about strengthening savings for seniors, and making sure that those programs that are [already] in existence work better for them.

But the fundamental principle will be recognizing that seniors are an element in our society that, when they get to a certain point in their life, just don't have the capacity often to go back into the workplace. My father worked at the Ottawa Citizen – we know what's happening in that industry. He's at the point now – he's in his 70s – if for whatever reason that pension plan is no longer there, he just doesn't have the ability to go back and start earning wages. So that's why its so important that governments ensure that retirement programs, pension plans, the types of public services, the public pension aspects that we have are adequate – not just adequate but robust – to protect them when those types of things happen.
Prior to the last federal election, the Conservative government under Stephen Harper undertook consultations on target benefit plans. As a result of these consultations and concerns about the issue taking hold, the National Association of Federal Retirees brought together over 20 groups to form the Canadian Coalition for Retirement Security – which still meets regularly and works collaboratively to stop Bill C-27. Under the pressure from Federal Retirees and the Coalition to abandon target benefit pension proposals, then-Prime Minister Stephen Harper issued an open letter to Canada's public service on the issue. While lacking in detail, Scheer's response signals that the Conservative party could be looking at changes to retirement savings programs and public pensions – his answer, however, did not touch upon defined benefit or target pension plans.
With the next federal election on the horizon, Federal Retirees will continue to track promises and commitments from all party leaders on the issues that matter most to our members – retirement income security, a National Seniors Strategy, pharmacare, and support for veterans.
The National Association of Federal Retirees is a non-partisan organization working to improve the quality and security of retirement for our members and all Canadians through advocacy and the provision of services. Our Board of Directors and staff work with all political parties to advance the interests of our members, and the Association does not financially support or promote voting for one party or candidate over another at any time.