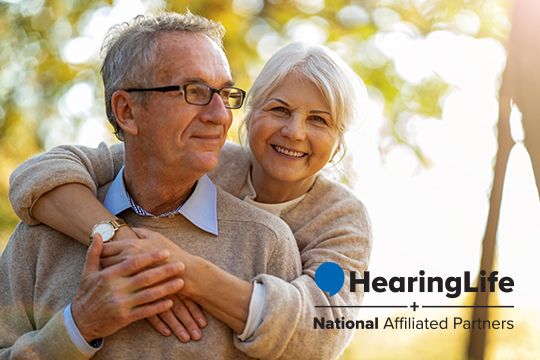 HearingLife offers exclusive hearing care benefits to Federal Retirees Members.
The National Association of Federal Retirees has partnered with HearingLife and their network partners to provide the best hearing care services to all Federal Retirees members. HearingLife and its network partners have over 300 clinics across the nation and form the largest network of hearing health care providers in Canada.
As a Federal Retirees member, you, and your immediate family (spouse, children, and parents,) are eligible to receive:
An additional 10 per cent off the regular price or limited-time promotional price of select hearing aids
Up to 2,000 AIR MILES® Reward Miles with your purchase of qualifying premium hearing aids
50 Miles with your first free hearing test
4 years of complimentary hearing aid battery coverage

Join the HearingLife Advantage Program!
As a member of Federal Retirees, you are also eligible to register for the exclusive HearingLife Advantage Program. As an Advantage member, you'll get:
Hearing aid discounts you can stack with your partner benefits.
Opportunities to double the Miles you receive from your partner benefits.
Exclusive promotions offering more chances to save.
Eligibility to enter Advantage contests and win prizes.

 For more information, please call 1-888-452-8360, or visit the HearingLife advantage page for Federal Retirees members.
Members in Quebec can receive benefits through local partner Groupe Forget.
Free hearing screening (offer valid until December 31, 2025):
Hearing Screening is a 10-minute beep test to determine if there is a loss or not. The beep test consists of a series of tones at various frequencies to determine if the client is able to hear the tones within the normal range or determine if a loss is present. The screening includes otoscopy which is a visual examination of the auditory canal and the eardrum with an otoscope.
Discounts:
25% off batteries with the purchase of the Groupe Forget Privilege card
25% off the Groupe Forget Privilege Card (upon renewal)
10% off accessories and repairs
Also get a discount of:
$150 (1 aid) or $225 (2 aids) off on a regular maintenance kit, or $300 off on a rechargeable maintenance kit.
Satisfaction is guaranteed (see details in our clinics).
 For more information, please call 1-888-415-6101 or visit Groupe Forget online.