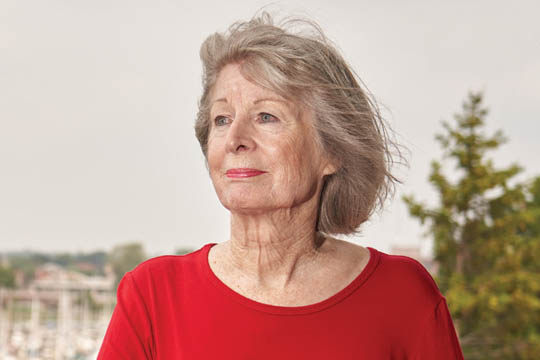 Ardith Bennett married her second husband after he was 60 years old and lost her health benefits when he died. Credit: Jana Chytilova
 
Eliminating the "marriage over 60" clause in the Canadian Forces Superannuation Act was an election promise in 2015, yet if you follow the money, you end up at a dead end.
The clause, which has often been colloquially termed the "gold-digger clause," says people who marry a veteran who is 60 or older at the time of marriage do not automatically receive a survivor pension, which is worth half of the veteran's pension benefits, if the veteran dies first. If they had married when the veteran was 59, however, the new spouse would qualify. Veterans groups have been lobbying for the elimination of the clause for decades.
The medical and dental benefits a spouse would enjoy are also not applicable once the veteran dies, if the marriage happened after the age of 60. That was unwelcome news to Ardith Bennett, who married her second husband, Dan, after he was 60. For paperwork simplicity, she gave up her dental hygienist's health plan and signed on with his. When Dan died 15 years later, she discovered she no longer had health benefits.
"I had no idea his coverage ended," she says. "I can't tell you the number of people I called [at Veterans Affairs] and they couldn't believe it either."
There's a provision that allows veterans who married over the age of 60 to defer some of their pensions to provide for a spouse, but those who married before 60 don't have to do that.
Many advocates thought this law, enacted in the early 1900s to prevent women from marrying veterans on their deathbeds in order to collect their pensions, would be addressed in 2015 after a Liberal Party election promise. Eliminating the clause was in the mandate letters of several Veterans Affairs ministers, but it wasn't until 2019 that the budget vowed to give Veterans Affairs $150 million over five years for a Veterans' Survivors Fund that would "work with the community" to identify impacted survivors and ensure they have the support they need. That was supposed to start in 2019 or 2020, but so far, nothing has happened.
"For the last 25 years, we've gotten very close to a solution, and then the government changes," says Brian Forbes, chairman of the National Council of Veterans and chairman of the executive council of The War Amps. "It's hard to believe we have such a program in Canada. The only conclusion I can reach is that the bean counters don't want to get into it. But it all comes down to fairness."
Forbes thinks the Veterans Survivor Fund is "just a shot in the dark" to address the issue.
"There's no detail, no information, no qualification," Forbes says. "They threw the money at it, but we didn't ask for this."
Joe Blanchard, national chairman of the Armed Forces Pensioners and Annuitants Association of Canada, also wants answers.
"[I will] write another letter to the minister of National Defence and Veterans Affairs, highlighting the inaction and the opportunity to do what they were supposed to do with the fund," Blanchard says. "No one has done anything."
Federal Retirees has been lobbying for change, too.
"This is really a missing checkmark on the promises this government made to veterans when we all went to the polls in 2015 and 2019," says Association president Jean-Guy Soulière. "It's an issue that also impacts the federal public service and the RCMP. This inequity still exists across all of the federal public sector plans. It's 2021 and it's time for pension plans to better reflect the nature of older adult relationships."
In an emailed response, Veterans Affairs Canada indicated it has contracted the Canadian Institute for Military and Veteran Health Research to consult with survivors to better understand the financial support they need. It expects to use the results to inform next steps over the "coming months."
Meanwhile, the Canadian Armed Forces indicated any changes to the act must be made by Parliament.
This article appeared in the fall 2021 issue of Sage magazine as part of our "Veterans' Corner" series, which tackles current veterans issues and answers questions we receive from veteran members and their families. While you're here, why not download the full issue and peruse our back issues too?