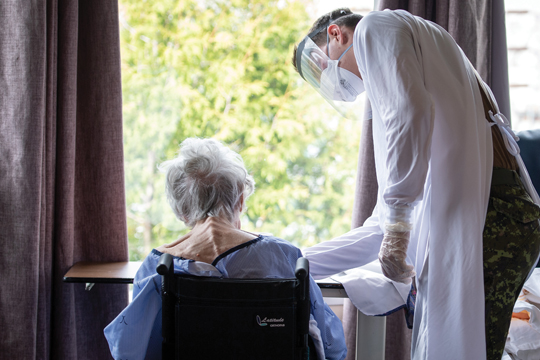 Seniors groups are calling for new national standards and a comprehensive seniors strategy that includes a commitment to work on older adult care. 

Credit: Cpl. Genevieve Beaulieu


 
When the pandemic descended with particularly tragic consequences on vulnerable seniors in long-term care homes, Gloria McKibbin thought it was time for action.
With a rich background in health care, the surviving spouse of a federal retiree jumped on the opportunity to become involved in the National Association for Federal Retirees as an advocacy program officer working with Ontario branches on initiatives for seniors.
"When I saw all the devastation in long-term care homes, I wanted to get involved again," says the senior from Southern Ontario, who coincidentally became the primary caregiver for her mother at just about the same time.
Federal Retirees' calls for new national standards for long-term and home care are becoming louder as the prospect of a federal election nears. And it is not a lone voice in the wilderness. Similar calls have come from the Council of Canadians, the National Institute on Ageing, the Canadian Health Coalition as well as the Canadian Association for Long Term Care, and aspects have been echoed by some federal politicians and the current government.
Federal Retirees is advocating for the federal government to implement a comprehensive national seniors strategy to allow for a co-ordinated national approach. That includes calls for a commitment from governments at all levels to work together to reform older adult care and implement new national standards for long-term and home care with dedicated funding and accountable goals.
The pandemic laid bare the blunt realities of the shortcomings in the system, resulting in the deaths of so many seniors in homes across the country and strengthening the calls for attention to the country's long-term and home-care systems, says Anthony Pizzino, the Association's chief executive officer. He points to inconsistencies across the country, in private and public homes, as well as failures that revealed some very serious issues in long-term care.
"It's the condition that exists in the home and the care, or lack of care, that individuals are getting in some of the homes," exposing some of the shortcomings and inconsistencies, Pizzino says. "This is really why we're calling for not only a national strategy on long-term care, but one that is enforceable. There have to be standards — minimum standards to be met and a way for provinces to be able to have those standards enforced."
Some homes provide very good care, while others do not, says Pizzino, who believes that good or bad outcomes come down to the standards and conditions. The lack of enforced standards, he adds, results in inconsistency and uneven care.
Federal Retirees sees the approach beginning with a national review of long-term care, with a focus on implementing a national framework that ensures appropriate levels of funding. That funding would be tied to national criteria and care standards.
 
A new approach
A national health workforce planning strategy would be established to ensure the right health-care workers are in the right place at the right time. It would also recognize and support informal caregivers who are crucial partners in delivering care to residents. Pizzino said the review must be public, independent, evidence-based and informed by older adults, informal caregivers and subject-matter experts.
There are suggestions that the new approach take cues from Canada's medicare system. In the creation of medicare, only physician and hospital care were included, says Samir Sinha, head of geriatrics at Mount Sinai and University Health Network hospitals in Toronto. Long-term care, meanwhile, became an "orphan area" that's grossly underfunded. While other countries included pharmacare and support for the provision of long-term care in their universal health-care programs, Canada didn't.
The result, says Sinha, also the director of health policy research for the National Institute on Ageing and a member of the technical committee developing the new national long-term care services standard, is people living in postal code lotteries where some places are much better organized than others.
"We currently spend between $22 billion and $24 billion… across Canada providing long-term care," he says. "Each of the provinces and territories have been left to their own devices to figure out how they may want to provide long-term care services. Funding levels vary significantly, coverage levels vary, the way it's organized varies, the terminology significantly varies. While you can say hospitals in one province are like hospitals in another, long-term care looks very different, not only across provinces and territories in Canada, but even within provinces and territories."
Canada spends 1.2 per cent of its GDP on long-term care, compared with the 1.7 per cent the average Organization for Economic Co-operation and Development (OECD) country spends, he adds. And Canada tends to spend most of that money — 87 per cent — on keeping many seniors in nursing homes rather than enabling them to stay in their own homes. The average OECD country spends two-thirds on institutional care.
Sinha points to data showing that more than 430,000 Canadians have unmet home-care needs with another 40,000 or more on nursing home wait lists, leaving many to languish in hospital. As a result, about 15 per cent of acute-care hospital beds are occupied by older people "being held hostage" because there aren't enough nursing home spaces or supports for them at home.
Meanwhile, the Canadian Institutes for Health Information reported last fall that one in 12 of the people going to nursing homes could be supported in the community.
What's missing at the core of the system, says Sinha, is a defined role for the federal government that already exists for medicare through the Canada Health Act.
Since the pandemic took such a horrible toll on seniors, the Liberal government has been discussing the implementation of national long-term care standards, confirmed in the government's speech from the throne last fall and followed by mandate letters to the ministers of seniors and health to oversee the development of these standards.
In the heat of the first wave of the pandemic, five Liberal MPs called on the government to implement enforceable national standards for the operation of Canada's long-term care homes. And earlier this year, NDP Leader Jagmeet Singh said for-profit long-term care homes should be phased out, calling on the government to transition for-profit homes to not-for-profit. That followed his earlier support for a national strategy, including the same principles as the Canada Health Act.
 
Defining the federal role
Earlier this year, Conservative Leader Erin O'Toole rejected the notion of imposing national standards on long-term care homes. He suggested a partnering with the provinces, which deliver health and long-term care, instead of a top-down approach.
Steven Staples, the Canadian Health Coalition's national director of policy and advocacy, wants the government to not just have an agreement from the provinces, but to have it all codified through legislation, tying the funding to minimum standards.
"Very little has actually been accomplished on the file, despite the fact that it was originally discussed last summer and it became government policy or commitment in the throne speech last fall in October and it was also included in the mandate letter — the supplemental letter that came out in January," Staples says.
He fears the issue could easily fall from the public awareness as the economy ramps back up. But the groups are determined to ensure it remains top of mind during the next federal election and Staples warns: "Any political party that ignores this does so at its peril."
Retired for six years from a 28-year career in the health-care industry, including long-term care homes, McKibbin now finds herself caring for her 93-year-old mother, navigating the current care system with some frustration.
Her mother was living independently when she broke her foot, sending her into the health, retirement and home-care systems just as the pandemic was taking hold on Canada.
When it came time for her mom, then 92, to return to her apartment, McKibbin hit a brick wall.
"Upon her discharge, we asked for a referral to home care. And they said that she doesn't qualify for home care. As long as she can make herself a sandwich, she's fine to live on her own," says McKibbin, who is quick to add that other aspects of the care system worked beautifully, such as the six weeks her mom spent in a retirement home rehabilitating from the injured foot.
Meanwhile, her mom, legally blind in one eye and partially sighted in the other, who uses a walker and has a hearing aid, had a series of mini strokes and was found to have early onset dementia. She eventually came to live with McKibbin, who was finally able to access home care twice a week through an urgent request from a gerontologist. After several attempts, she finally also got her mom on a two-year waiting list for a long-term care home.
McKibbin likes the Federal Retirees strategy and sees a promising future if it's adopted. But she's also interested in having her voice heard and hopes the process will include consultations and feedback from stakeholders along with those working within the current system.
"I have some really good ideas for when they start setting their standards," she adds, suggesting that if she's not somehow part of the process, she'd like to send in a submission.
This article appeared in the fall 2021 issue of our in-house magazine, Sage. While you're here, why not download the full issue and peruse our back issues too?